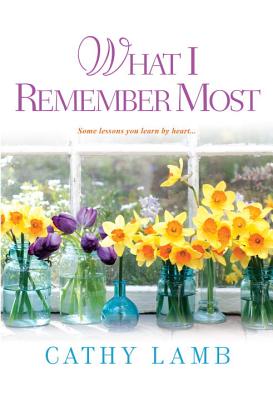 What I Remember Most
Paperback

* Individual store prices may vary.
Other Editions of This Title:
MP3 CD (12/2/2014)
Compact Disc (12/2/2014)
Description
In a new novel rich in grace, warmth, and courage, acclaimed author Cathy Lamb tells of one woman's journey of reinvention in the wake of deep betrayal.

Grenadine Scotch Wild has only vague memories of the parents she last saw when she was six years old. But she's never forgotten their final, panicked words to her, urging Grenadine to run. The mystery of their disappearance is just one more frayed strand in a life that has lately begun to unravel completely. One year into her rocky marriage to Covey, a well known investor, he's arrested for fraud and embezzlement. And Grenadine, now a successful collage artist and painter, is facing jail time despite her innocence.

With Covey refusing to exonerate her unless she comes back to him, Grenadine once again takes the advice given to her so long ago: she runs. Hiding out in a mountain town in central Oregon until the trial, she finds work as a bartender and as assistant to a furniture-maker who is busy rebuilding his own life. But even far from everything she knew, Grenadine is granted a rare chance, as potentially liberating as it is terrifying--to face down her past, her fears, and live a life as beautiful and colorful as one of her paintings. . .

Outstanding Praise For Cathy Lamb And Her Novels

If You Could See What I See

"Lamb's story is earnest, heartwarming and, at times, heartbreaking." --RT Book Reviews

The First Day Of The Rest Of My Life

"The blending of three or more generations and the secrets they harbor keeps this story moving briskly, culminating in a satisfying ending that makes us believe that despite heartache and angst, there can be such a thing as happily ever after." --New York Journal of Books

Such A Pretty Face

"Stevie's a winning heroine." --Publishers Weekly

Henry's Sisters
An Indie Next List Notable Book

"A story of strength and reconciliation and change." --The Sunday Oregonian

"If you loved Terms of Endearment, the Ya Ya Sisterhood, and Steel Magnolias, you will love Henry's Sisters. Cathy Lamb just keeps getting better and better." --The Three Tomatoes Book Club

The Last Time I Was Me

"Charming." --Publishers Weekly

Julia's Chocolates

"Julia's Chocolates is wise, tender, and very funny. In Julia Bennett, Cathy Lamb has created a deeply wonderful character, brave and true. I loved this beguiling novel about love, friendship and the enchantment of really good chocolate." --Luanne Rice, New York Times bestselling author
Kensington, 9780758295064, 496pp.
Publication Date: August 26, 2014
About the Author
Cathy Lamb is the bestselling author of twelve novels, including The Man She Married, No Place I'd Rather Be, What I Remember Most, The Last Time I Was Me, Henry's Sisters and Julia's Chocolates. She lives with her family in Oregon and can be found online at cathylamb.org.
What did you think of What I Remember Most? What three scenes best depict Grenadine Scotch Wild's character?
Which character did you most relate to and why? Was there any part of the book that made you laugh or cry? What was your favorite scene?
If you could spend the day with Grenadine, Kade, Rozlyn, the Hutchinsons, or Eudora, who would you choose and what would you do?
Grenadine says, about herself, "I'm a crack shot and can hit damn near anything…I'm a collage artist and painter…I used to have a little green house. I sold it. That was a huge mistake…I can smash beer cans on my forehead…I fight dirty. Someone comes at me, and my instinctive reaction is to smash and pulverize. It has gotten me into trouble…I have a temper, my anger perpetually on low seethe, and I have struggled with self esteem issues and flashbacks for as long as I can remember…I can wear four-inch heels and designer clothes like wealthy women, make social chitchat, and pretend I'm exactly like them. I am not like them at all…" Write down, and then share, how you would describe yourself.
Grenadine speaks in the first person. However, there are also police and children's services reports; memos, letters from a doctor, a teacher, and Grenadine; a report card; a court transcript; and third-person passages from the point of view of Bucky. Did the structure work for you? Why?
Marley, a customer at The Spirited Owl said, "Women are so picky. If you don't look like Brad Pitt or you're not rich, they don't want you." Grenadine said, "No, they don't want you, Marley, because you look like you have a baby in your stomach, you're unshaven, you drink too much, and all you want to do is talk about yourself and whine in that whiny voice of yours. Would you be attracted to you? No? Then why would a woman be?" Why did the author give Grenadine a job at a bar? Is she a good bartender? If she gave you advice while you were drinking a margarita, what would she say to you?
Did the author portray Grenadine's journey in foster care and the children's services division workers accurately?
Why was Grenadine attracted to Kade? What did Kade have in common with her? Kade had spent time in jail because of gang related activities when he was younger. Would his record have stopped you from dating him?
From Bucky: She never should have gotten away. That was a mistake. He had not expected things to take so long. It had always bothered him. He liked things neat. Planned. Perfect. He wanted to see her again. Before. He would do it! He would think of a way. He pulled four strands of hair out of his head, then made a design on the table in front of him. He giggled. He twitched in his chair. He told himself a nursery rhyme. He changed the words to create a new rhyme. He sang it out loud. He wrote it in his rhyme book. He giggled again, then he hurdled his rhyme book across the room, tilted his head back and screamed. What element did Bucky bring to the story? Did it fit?
What did you think of Covey? Was there any good in him?
Did you learn anything about living and dying from Rozlyn? Would it have been more realistic, or a better ending for you, if Rozlyn had lived? Why do you think the author chose for her to die?
Grenadine said, "I paint what's in my head. I paint whatever I'm thinking about at the time. I'll twist it up, spin it out, add color, add layers, add collage items, and I keep going until it feels done." If you were to make a painting or collage that would tell the story of your life, what would it look like? What materials would you use? What would it say about you? Grab the artist in you and sketch it out.