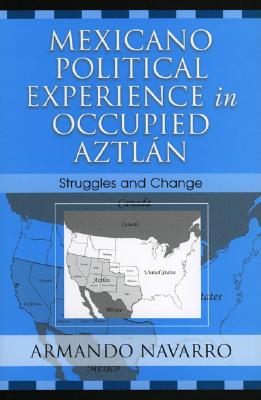 Mexicano Political Experience in Occupied Aztlan (Paperback)
Struggles and Change
Altamira Press, 9780759105676, 768pp.
Publication Date: June 1, 2005
Other Editions of This Title:
Hardcover (10/1/2004)
* Individual store prices may vary.
Description
This exciting new volume from Armando Navarro offers the most current and comprehensive political history of the Mexicano experience in the United States. He examines in-depth topics such as American political culture, electoral politics, demography, and organizational development. Viewing Mexicanos today as an occupied and colonized people, he calls for the formation of a new movement to reinvigorate the struggle for resistance and change among Mexicanos. Navarro envisions a new political and cultural landscape as the dominant Latino population 'Re-Mexicanizes' the U.S. into a more multicultural and multiethnic society. This book will be a valuable resource for political and social activists and teaching tool for political theory, Latino politics, ethnic and minority politics, race relations in the United States, and social movements.
About the Author
Armando Navarro is a political scientist and professor of Ethnic Studies at the University of California, Riverside. He has over twenty-eight years of activism and professional experience in community organizing and advocacy, dealing with a myriad of local, state, national, and international social justice issues that affect Latinos. His previous books include Mexican American Youth Organization; The Cristal Experiment; and .