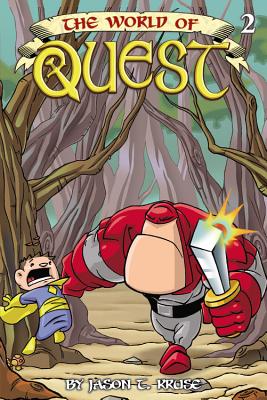 The World of Quest, Vol. 2 (Paperback)
Yen Press, 9780759528895, 144pp.
Publication Date: December 1, 2008
* Individual store prices may vary.
or
Not Currently Available for Direct Purchase
Description
As Quest begrudgingly comes to terms with having to care for a spoiled princeling, the pair make their way into the deadly Forest of Edj to seek out the Rocks - the oldest, wisest, and most boring beings in all of Odyssia - to find "The Dagger of the Way" before the forces of evil do. But the two are separated while facing the perils of the forest. While Quest is pursued by an angry mob of Snarls, Nestor meets up with the wily griffin, Graer, who may have his own agenda. With Lord Spite gathering his most fierce minions, a mysterious new ally may be the key to tipping the scales in favor of our heroes.
About the Author
Jason T. Kruse is not only a veteran of the prestigious CalArts University in sunny Southern California; he is also a maker of fine comic books. More specifically, he made a comic book called THE WORLD OF QUEST. In the animation world Jason most recently worked as an animator for Helixe, a division of THQ, on Pixar's "Ratatouille" for the Nintendo Gameboy as well as its sequel, "Food Frenzy" and the upcoming THQ original release, "DeBlob." In addition, he has worked as a clean-up animator and fill-in story artist on Steve Oedekirk's "The Barnyard." He has also worked on such films as "Stuart Little" and "Cats and Dogs" for Rhythm and Hues Studio in Los Angeles as well as animating and storyboarding various pilots for such companies as Disney and Nickelodeon. At Quicksilver he was the character animator and story artist on a number of separate games including "Star Trek: Tactical Assault," "Master of Orion 3" as well as Robert Kiyosaki's "Cashflow 101 and 202" . Currently, "The World of Quest" is in development for its second season with The Cookie Jar Company in Toronto and will air internationally this year.
Advertisement