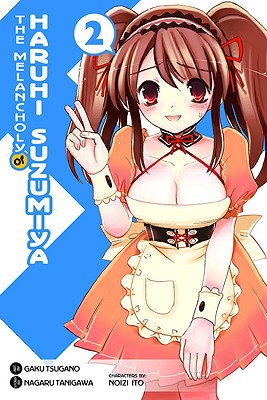 The Melancholy of Haruhi Suzumiya, Vol. 2 (Manga) (Paperback)
Yen Press, 9780759529458, 176pp.
Publication Date: March 24, 2009
Other Editions of This Title:
Paperback (8/21/2012)
Paperback (11/18/2014)
Paperback (4/23/2013)
Paperback (6/9/2009)
Paperback (10/26/2010)
* Individual store prices may vary.
Description
"Let's track down aliens, time travelers, and psychics and hang out with them!" Haruhi Suzumiya established the SOS Brigade for that sole purpose. But why's she been acting so strange of late? So...melancholy? Unable to locate any supernatural beings (even though they're right there in the club room the whole time), Haruhi's frustrations turn violent. What's Kyon gotten himself mixed up in this time?! Enjoy volume 2 of this somewhat abnormal high school story!
About the Author
Nagaru Tanigawa is a Japanese author best known for The Melancholy of Haruhi Suzumiya for which he won the grand prize at the eighth annual Sneaker Awards. Tanigawa is currently working on the tenth novel about Haruhi Suzumiya and the S.O.S. Brigade.