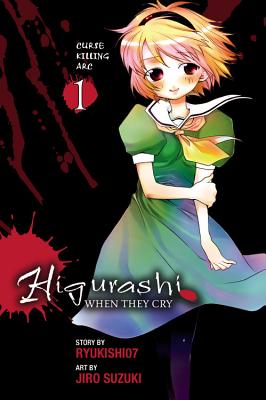 Higurashi When They Cry (Paperback)
Curse Killing Arc, Vol. 1
Yen Press, 9780759529878, 192pp.
Publication Date: November 17, 2009
* Individual store prices may vary.
Description
The dark mysteries of Hinamizawa village unfold anew in the Curse Killing Arc! After a short trip to the city, Keiichi Maebara returns to the small mountain hamlet where he is welcomed with a fresh batch of pranks from Satoko and the rest of his school friends. Satoko may be the youngest of the group, but she always puts on the biggest smile. Who knew her upbeat attitude masked a terrible tragedy - a year ago her older brother, her only family, vanished without a trace. Keiichi's glad to step in and act as her big brother figure, but he can't shake the nagging questions about her real brother's disappearance. Transfer student? Teenage runaway? Or could it be...Oyashiro-sama's curse?

About the Author
Ryukishi07 leapt into the spotlight with HIGURASHI NO NAKU KORO NI which was originally conceived as a series of visual novels and later adapted into the popular manga and anime franchise.