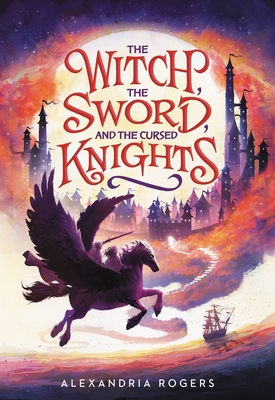 The Witch, The Sword, and the Cursed Knights
Hardcover

* Individual store prices may vary.
Description
A charming middle-grade fantasy debut that puts a new spin on the legend of Camelot, perfect for fans of The School for Good and Evil and A Tale of Magic…
 
Twelve-year-old Ellie can't help that she's a witch, the most hated member of society. Determined to prove her worth and eschew her heritage, Ellie applies to the Fairy Godmother Academy—her golden ticket to societal acceptance. But Ellie's dreams are squashed when she receives the dreaded draft letter to serve as a knight of King Arthur's legendary Round Table. She can get out of the draft—but only if she saves a lost cause.
 
Enter Caedmon, a boy from Wisconsin struggling with the death of his best friend. He first dismisses the draft as ridiculous; magic can't possibly exist. But when Merlin's ancient magic foretells his family's death if he doesn't follow through, he travels to the knights' castle, where he learns of a wicked curse leeching the knights of their power. 
 
To break the curse, Ellie and Caedmon must pass a series of deathly trials and reforge the lost, shattered sword of Excalibur. And unless Ellie accepts her witch magic and Caedmon rises to become the knight he's meant to be, they will both fail—and the world will fall to the same darkness that brought King Arthur and Camelot to ruin.
  
Praise For The Witch, The Sword, and the Cursed Knights…
"The Witch, the Sword, and the Cursed Knights is a joy to read – a delightful, heartfelt adventure with characters you'll root for. It has all the intrigue of the original source material, but it's also packed full of imagination. Perfect for any child who's ever wished for magic!"—Carli Sorosiak, author of I, Cosmo

"This is a delightful book that cleverly combines reimagined elements of Arthurian legend and fairytales in a fresh adventure full of magic lessons, dangerous quests, lost lands, and true friends – with a sugar-dusting of humor sprinkled throughout. I enjoyed every page!"—Jennifer Adam, author of The Last Windwitch
Little, Brown Books for Young Readers, 9780759554580, 432pp.
Publication Date: February 8, 2022
About the Author
Alexandria Rogers received her bachelor's degree in creative writing and English literature from Miami University of Ohio and her master's degree in narrative non-fiction from City, University of London. Originally from Wisconsin, she's now based in Edinburgh with her husband and dog.