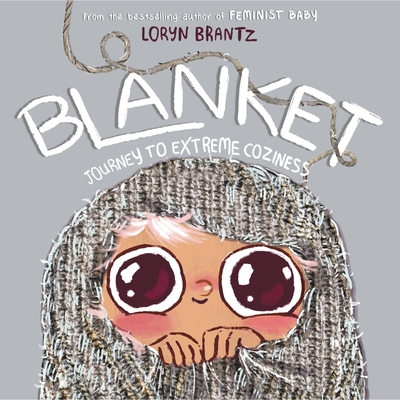 Blanket
Journey to Extreme Coziness
Hardcover

* Individual store prices may vary.
Description
Learn how to become one with your blanket in this quirky and hilarious picture book from Loryn Brantz, bestselling author of Feminist Baby.
Behold, the powers of your blanket are REAL.
From the best-selling author of Feminist Baby, Feminist Baby Finds Her Voice, and Feminist Baby! He's a Feminist Too! comes a witty and charming picture book about discovering the power of your blanket. Readers will learn how to make their own snuggly, cuddly cocoon and all the things you can do when you feel safe and warm. Your blanket might take you to space, under the deep blue sea, or anywhere you can imagine. But what happens when you leave your blanket? Not knowing is scary, but also exciting!
This adorable and exuberant story is filled with open-ended questions that encourage readers to be true to themselves, both inside and outside of their blankets.
Praise For Blanket: Journey to Extreme Coziness…
"[I]ts illustrations have the recognizable feel of Brantz's well-known feminist cartoons with the wonderful textural complexity of a blanket collaged out of photographed fabric."—Booklist

"Dynamic illustrations rely on simple shapes, expressive close-ups, and hilarious shots of the ebullient child, cleverly turning the blanket cocoon into a metaphor for the process of growing up. An engaging, energetic, amusing, and affirming must for blanket lovers."—Kirkus

"Kids will want to take this bedtime read under the covers.... As you'd expect from Brantz, creator of the Feminist Baby series, the theme of empowerment ("We could be anything!") is expertly woven into the plot."—Parents Magazine

"Using an illustration technique that evokes the knitted softness of the title, Blanket tells the story of a child finding comfort in their blanket cocoon before metamorphosing into something even greater."—Entertainment Weekly
Little, Brown Books for Young Readers, 9780759554795, 40pp.
Publication Date: January 5, 2021
About the Author
Loryn Brantz is a two-time Emmy Award-winning author, illustrator, and design professional. Past books include Feminist Baby, Feminist Baby Finds Her Voice!, and Feminist Baby! He's a Feminist Too! She is also the creator of the Good Advice Cupcake and currently works on staff at BuzzFeed. Loryn lives in New York City, with her husband and daughter. Find her online at www.lorynbrantz.com.