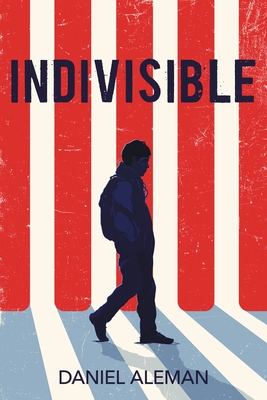 Indivisible
Hardcover

* Individual store prices may vary.
Other Editions of This Title:
Digital Audiobook (5/3/2021)
Paperback (8/23/2022)
Compact Disc (5/4/2021)
Description
This timely, moving debut novel follows a teen's efforts to keep his family together as his parents face deportation.

Mateo Garcia and his younger sister, Sophie, have been taught to fear one word for as long as they can remember: deportation. Over the past few years, however, the fear that their undocumented immigrant parents could be sent back to Mexico started to fade. Ma and Pa have been in the United States for so long, they have American-born children, and they're hard workers and good neighbors. When Mateo returns from school one day to find that his parents have been taken by ICE, he realizes that his family's worst nightmare has become a reality. With his parents' fate and his own future hanging in the balance, Mateo must figure out who he is and what he is capable of, even as he's forced to question what it means to be an American.

Daniel Aleman's Indivisible is a remarkable story—both powerful in its explorations of immigration in America and deeply intimate in its portrait of a teen boy driven by his fierce, protective love for his parents and his sister.
Praise For Indivisible…
"Indivisible is a deeply moving tribute to those caught between two worlds in the immigration crisis in America—a potent reminder that no human being is illegal, and that hundreds of thousands of children in this situation are forced to grow up too quickly. Although this is fiction, it's far too real."—Jodi Picoult, #1 New York Times-bestselling author of The Book of Two Ways

"Indivisible is a powerful story about family, friendship, and home. In a world divided by so many labels, this story is a reminder that there are no boundaries for love. It shines a light on the difficult choices people make for their family and community, and reminds us that each family is a little world. Mateo, Sophie, and their parents are now part of my heart."—Yamile Saied Méndez, author of Pura Belpré Inaugural YA Award winner Furia

"As heart-wrenching a tale as it is, Indivisible is also a heartening tribute to the power and endurance of familial love."—Adi Alsaid, author of Let's Get Lost and North of Happy

"Indivisible is a heartbreakingly poignant and timely coming-of-age story of the human cost of a morally bankrupt immigration policy. This book is an unforgettable chronicle of the fiercest, indomitable love and devotion."—Jeff Zentner, Morris Award-winning author of The Serpent King

"Both a gripping, harrowing story about an American tragedy and a moving portrait of the bonds of family and unexpected community, Indivisible somehow never loses its humor, its humanity or its hope."—Kelly Loy Gilbert, author of Stonewall Honor Book Picture Us In the Light

"Daniel Aleman is a fearless writer who never shies away from the complexity of his premise, yet gives Mateo such agency and drive, you never lose hope as a reader. A total miracle of a book."—Adam Sass, author of Surrender Your Sons

"In his moving debut novel, Daniel Aleman skillfully paints a story of how injustice rips us apart, friendships and family gathers our broken pieces, and hope slowly stitches us back together. Indivisible belongs on every shelf."—Julian Winters, award-winning author of Running With Lions

"Indivisible is an intimate and emotional portrait of a family trying to survive under the threat of deportation, with a deeply sensitive and resilient narrator at its center. It's a powerful story of finding strength: strength to hold a family together as their worst fear becomes reality, and strength to learn who you are, what you want and the person you hope to become. At times heartbreaking, ultimately uplifting, this book is a poignant story we need."—Julia Drake, author of The Last True Poets of the Sea

* "Stellar, clear and emotional, realistic and suspenseful. The story is complex and heart-wrenching, yet full of hope and familial love."—Booklist, starred review

* "[This] thoroughly openhearted debut … will leave an indelible mark on the hearts of readers." —Publishers Weekly, starred review

"Heart-wrenching.... An ode to the children of migrants."—Kirkus Reviews

"Insightful.... The uncertainty and heartbreak faced by families separated by deportation is brilliantly displayed."—SLJ
Little, Brown Books for Young Readers, 9780759556058, 400pp.
Publication Date: May 4, 2021
About the Author
Daniel Aleman was born and raised in Mexico City. A graduate of McGill University, he currently lives in Toronto. Indivisible is his first novel.
1. Mateo's Ma says that he "feels too much." How does this both work for and against Mateo? When do Mateo's feelings, negative or positive, most color his experience?
2. Mateo and his friends all present different versions of themselves to the world. How do they adapt their personalities to fit their surroundings? Why do you think people change their behavior based on their setting?
3. Throughout the book, Mateo wrestles with the cost of the opportunities provided by his parents' sacrifices. How does his perspective compare with that of his parents? How does the pressure to succeed impact Mateo's dreams for his life?
4. Mateo's Ma reminds him of the "'be careful' rule": "Don't say anything. No one can know." How does keeping secrets affect Mateo? What additional stressors does this rule add to his daily life?
5. Mrs. Solis tells Mateo that "sometimes, the only way to be strong is to let someone else carry some of the weight with you." How does asking for help make you stronger? How do communities support their own? When Mateo opens himself up to support from those around him, how does he change?
6. Amy reassures Sophie after a schoolmate makes a xenophobic statement about Sophie's parents. What does it mean to be an ally? How do characters provide allyship to Mateo and Sophie?
7. Multiple characters benefit from intergenerational relationships. How does the lived reality of one generation impact subsequent generations?
8. Each member of Mateo's family experiences Pa and Ma's deportation in different ways. How are their experiences similar? What differences do you see in their experiences?
9. Kimmie and Mateo discuss the expectations other people have of their identities. How do race and sexuality affect the societal expectations placed on young people?
10. Mateo affirms that "no matter how hard they tried to separate us, how much the distance hurt, or how it nearly broke us, we are really, truly indivisible." While physically separated, how do Mateo, Sophie, and their parents try to maintain closeness to one another? What emotional walls complicate those efforts?