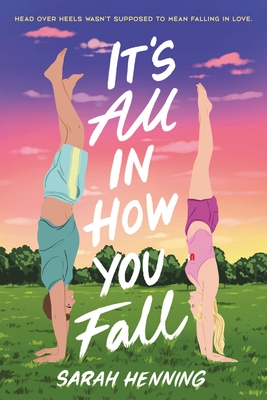 It's All in How You Fall
Paperback

* Individual store prices may vary.
Other Editions of This Title:
Digital Audiobook (5/30/2022)
Description
A contemporary young adult romance about moving on, finding your place, and recovering after life falls apart.

Gymnast Caroline Kepler has three state balance beam titles, a new trick even most elites can't do, and chronic, undeniable back pain. While she might never be an Olympian, she has dreams of leveling up to elite, making Nationals, and competing in college. But when one epic face-plant changes all that and Caroline's back pain goes from chronic to career-ending, her dreams are shattered and her life is flipped upside down.

Enter Alex Zavala, a three-sport athlete who's both incredibly cute and incredibly off-limits. He offers to give Caroline a crash course in all the sports she's missed, and she has an offer for him in return: For every sport Alex teaches her, she'll play matchmaker for him. Deal done, Caroline "dates" new sports with Alex for the rest of the summer, which is loads more fun than wallowing in despair. Just as Caroline starts to see herself as more than her past athletic successes, she picks up something she didn't bargain for: a big fat crush on Alex.

Turns out life was way easier when it was just layout-fulls and beam burns....
Praise For It's All in How You Fall…
Praise for It's All in How You Fall:

"Sarah Henning sticks the landing with It's All in How You Fall, an unputdownable coming-of-age story about losing one dream and finding another, perfectly balanced with a swoony romance, family feels and deep friendships. An absolute must read!"—Jennifer Iacopelli, author of Break the Fall and Finding Her Edge

"A sweet and delightful romance exploring self-discovery, identity, and belonging among elite teen athletes. If you love comfort reads with happily ever afters, this book delivers!"—Suzanne Park, author of Sunny Song Will Never Be Famous and The Perfect Escape

Praise for Throw Like a Girl:

"Liv's major obstacle is learning to forgive and trust again: the family who doesn't respect her decisions; the teammates who keep secrets; the boyfriend with an agenda; and above all, her own flawed, complicated, driven, triumphant self. This charming sports story reflects classic tropes of the genre while still feeling fresh and relevant. A winner."—Kirkus Reviews

"Henning offers a fun romance twined with a fast-paced sports story, and a headstrong protagonist who is easy to champion. Liv's relationship with Grey is the perfect mix of heat and heart, and her acceptance by the all-male football team, refreshingly easy. [A] feel-good underdog story about a girl who refuses to quit."—Publishers Weekly

"Determination and grit mixed perfectly with sass and humor on every turn of the page. With mistakes come lessons, and this story tells it in a way that everyone can relate to."—Abbi Glines, #1 New York Times bestselling author

"Henning's Throw Like a Girl is the perfect pitch and catch! Heartfelt and funny, this story is a winner."—justin a. reynolds, author of The Opposite of Always

"Nothing beats sports romance by someone who truly knows and loves sports, and Henning is among the best of the best. Throw in a brilliant family dynamic and great friendships, and this is everything I love about contemporary YA."—Dahlia Adler, author of Cool for the Summer

"[Sarah] Henning offers up a scrappy contemporary debut in the vein of Morgan Matson. Sports fans and romance lovers unite—there's plenty to satisfy both teams here."—Booklist

 

"[Sarah Henning] writes with experience and compassion, never underplaying Caro's grief over the future she believes she's lost. Supportive and bighearted characters populate this optimistic novel."—Publishers Weekly
Poppy, 9780759556676, 320pp.
Publication Date: May 31, 2022
About the Author
Sarah Henning is a former sports journalist who has worked for The Palm Beach Post, Kansas City Star, and Associated Press, among others. When not writing, she runs ultramarathons, hits the playground with her two kids, and hangs out with her husband. Sarah lives in Lawrence, Kansas, hometown of Langston Hughes, William S. Burroughs, and a really good basketball team. She is the author of Sea Witch, The Princess Will Save You, and Throw Like a Girl, and invites you to visit her online at sarahhenningwrites.com.