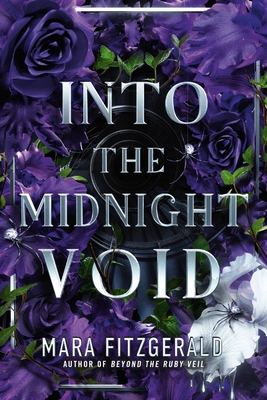 Into the Midnight Void (Beyond the Ruby Veil #2)
Hardcover

* Individual store prices may vary.
Description
Fans of Holly Black and Kendare Blake will obsess over the conclusion to this deliciously dark YA fantasy duology!

Emanuela has finally gotten what she's always wanted. Since escaping her catacomb prison, she's become the supreme ruler of everything under the veils. Finally, she has the power to throw aside senseless, old traditions and run things exactly the way they should be. 

But when cracks in her magic start to show, Emanuela begrudgingly allies herself with her enemies, including her frustratingly alluring archnemesis, Verene. Together, they discover deeper truths about the mysterious blood magic Emanuela and Verene both wield. There is a higher, otherworldly authority outside the veils, and in order to save Occhia and the other realms, Emanuela may just have to rip another crown off someone's head. 
Praise For Into the Midnight Void (Beyond the Ruby Veil #2)…
Praise for Into the Midnight Void: 

"I'm so glad my favorite horrible murder girl is back and thriving! I have been anxiously awaiting this sequel, and I devoured it the minute I could because oh my god did it meet my expectations. There is so much to love here, the chaos continues to be impossible to look away from, and the sheer basically evil flirting is just.... astounding."
—Librarian
 
"I was definitely in the mood for another exciting and compelling YA novel. The life Emanuela lives was so thrilling and adventurous that when I was reading, I felt like I was along for the ride. I am still in search of my next YA series obsession and after reading Beyond the Ruby Veil and now Into the Midnight Void, I can officially say I am hooked. It has been said many times in context, keep your friends close but your enemies closer and Emanuela does that to the nth degree. I was so complete with stimulation that I had to share this news with our teen book club and they can't wait to read it for a future meeting."
—Lackawanna Public Library (Lackawanna, NY)
 
"Into the Midnight Void is the perfect, dark sequel and finale for this duology. Emanuela has gotten everything she wanted, and lost everything she needed, and here is where she is at her peak, humorous, terrible, and gay as hell for Verene, her enemy. I loved this book and it's twists and turns, the way it doesn't shy away from having unlikable characters and terrifying, doom filled prospects awaiting said characters. Other authors could learn a thing or two from Fitzgerald's daring story."
—Bookmarks (Winston-Salem, NC)
 
"A scintillating, dark tale, INTO THE MIDNIGHT VOID is utterly compelling story all on its own and an exquisite end to a delicious series. Emanuela has the air and attitude of Lady Macbeth, but with the confidence and strength to do her own dirty work and take power for herself. She is a character you love to hate and hate to love but you do anyway. A story that drips with darkness and magic on every page and will keep you eagerly reading until the very end."
—Towne Book Center & Café (Collegeville, PA)
 
"A great conclusion to this duology."
—Librarian
 —Multiple

"A novel filled with secrets, betrayals, and disasters.... Dark, spectacular, and tragic."—Kirkus
Little, Brown Books for Young Readers, 9780759557758, 272pp.
Publication Date: January 25, 2022
About the Author
Mara Fitzgerald writes YA fantasy about unlikable female characters who ruin everything. She is a biologist by day and spends entirely too much time looking at insects under a microscope. She was born near Disney World and now lives near Graceland, which is almost as good. She is the author of the Beyond the Ruby Veil duology.