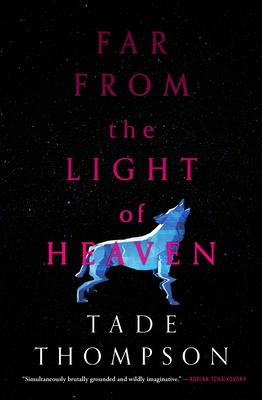 Far from the Light of Heaven
Paperback

* Individual store prices may vary.
Description
Tense and thrilling, Far from the Light of Heaven is an unforgettable vision of humanity's future in the chilling emptiness of space by Arthur C. Clarke Award winner Tade Thompson.
The colony ship Ragtime docks in the Lagos system, having traveled light-years from home to bring thousands of sleeping souls to safety among the stars.
 
Some of the sleepers, however, will never wake. As a profound and sinister mystery unfolds aboard the gigantic vessel, its skeleton crew makes decisions that will have repercussions for all of humanity's settlements—from the scheming politics on Lagos station to the colony planet of Bloodroot, to other far-flung systems, and indeed Earth itself.

For more from Tade Thompson, check out:
 The Wormwood TrilogyRosewaterRosewater: InsurrectionRosewater: Redemption
Praise For Far from the Light of Heaven…
Previous praise for Tade Thompson:
"Smart. Gripping. Fabulous!" --- Ann Leckie, award winning-author of Ancillary Justice on Rosewater
"Mesmerising. There are echoes of Neuromancer and Arrival in here, but this astonishing debut is beholden to no one." --- M. R. Carey, bestselling author of The Girl with all the Gifts on Rosewater
"A magnificent tour de force, skillfully written and full of original and disturbing ideas." --- Adrian Tchaikovsky, Arthur C. Clarke Award winning author of Children of Time on Rosewater
"A sharply satirical, ingenious thriller about an alien invasion that's disturbing familiar. Tade Thompson has built a fascinating world that will suck you in and keep you guessing. This book will eat you alive, and you'll like it." --- Annalee Newitz, author of Autonomous on Rosewater
"Part thriller, part mystery and part phantasmagoric journey across a strange yet not-too-distant future, and reminiscent at times of both Roger Zelazny and Nnedi Okorafor, Rosewater is the hardboiled, Nigerian alien invasion story you always wanted." --- Lavie Tidhar, award winning author of Central Station

Orbit, 9780759557918, 400pp.
Publication Date: October 26, 2021
About the Author
Tade Thompson is the author of Rosewater, a John W. Campbell Award finalist and winner of the 2019 Arthur C. Clarke Award and the 2017 Nommo Award for African speculative fiction. Born in London to Yoruba parents, he lives and works on the south coast of England as an emergency room psychiatrist.