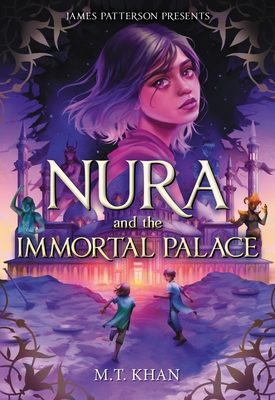 Nura and the Immortal Palace
Hardcover

* Individual store prices may vary.
Description
Aru Shah and the End of Time meets Studio Ghibli's Spirited Away in this mesmerizing portal fantasy that takes readers into the little-known world of Jinn.
Nura longs for the simple pleasure of many things—to wear a beautiful red dupatta or to bite into a sweet gulab. But with her mom hard at work in a run-down sweatshop and three younger siblings to feed, Nura must spend her days earning money by mica mining. But it's not just the extra rupees in her pocket Nura is after. Local rumor says there's buried treasure in the mine, and Nura knows that finding it could change the course of her family's life forever.

Her plan backfires when the mines collapse and four kids, including her best friend, Faisal, are claimed dead. Nura refuses to believe it and shovels her way through the dirt hoping to find him. Instead, she finds herself at the entrance to a strange world of purple skies and pink seas—a portal to the opulent realm of jinn, inhabited by the trickster creatures from her mother's cautionary tales. Yet they aren't nearly as treacherous as her mother made them out to be, because Nura is invited to a luxury jinn hotel, where she's given everything she could ever imagine and more. 

But there's a dark truth lurking beneath all that glitter and gold, and when Nura crosses the owner's son and is banished to the working quarters, she realizes she isn't the only human who's ended up in the hotel's clutches. Faisal and the other missing children are there, too, and if Nura can't find a way to help them all escape, they'll be bound to work for the hotel forever.
Set in a rural industrial town in Pakistan and full of hope, heart, and humor, 
Nura and the Immortal Palace
is inspired by M.T. Khan's own Pakistani Muslim heritage. 
Praise For Nura and the Immortal Palace…
"Both startling and beautiful. Nura will win your heart in the first pages of this magical adventure with surprises at every turn."—J.C. Cervantes, best-selling author of The Storm Runner series

"Beautifully imaginative and full of humor, heart, and characters to root for, Nura and the Immortal Palace is a grand adventure of a book."—Christina Li, author of Clues to the Universe

"Nura and the Immortal Palace is a debut that glimmers as captivatingly and intensely as the mica its protagonist mines. Every word is a thoughtfully selected gem, every scene gripping and intensely wrought. The result is an adventure that is dangerously beautiful and will make sure readers are both enchanted and excited for every page turn. M.T. Khan is a wordsmith to watch, and name to remember."—Karuna Riazi, author of The Gauntlet

"M.T. Khan weaves a magical tale brimming with themes of friendship, family, and hope - interspersed with delicious foods and enthralling lore. Readers will root for brave Nura from the gripping beginning to the breathtaking conclusion. Action-packed, heartfelt, timeless!"—Katie Zhao, author of The Dragon Warrior and Winnie Zeng series

"A stunning debut.  Khan weaves a uniquely magical tale taking the tropes of jinn and presenting them as tragic, selfish, and all together untrustworthy. Nura, despite her humble origin, rises up to take on all the illusions and deceits of the immortal mischief-makers, and through her trials Khan presents a powerful view of the world we live in, where injustice and subjugation of the poor and powerless is as cruel and destructive as anything a djinni could conjure up. A uniquely powerful tale."—Sarwat Chadda, author of City of the Plague God
Jimmy Patterson, 9780759557956, 272pp.
Publication Date: July 5, 2022
About the Author
M.T. Khan is a speculative fiction author with a penchant for all things myth, science, and philosophy. She focuses on stories that combine all three, dreaming of evocative worlds and dark possibilities. When she's not writing, she has her nose deep in physics textbooks or glued to her CAD computer as she majors in Mechanical Engineering. Born in Lahore, Pakistan, she currently resides in Toronto, Canada, with a hyperactive cat and an ever-increasing selection of tea. Nura and the Immortal Palace is her debut novel.