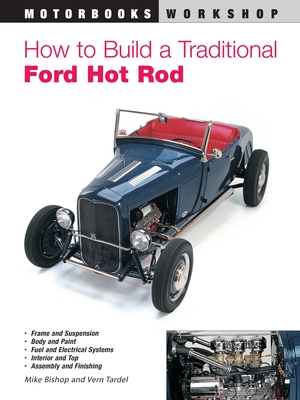 How to Build a Traditional Ford Hot Rod (Motorbooks Workshop) (Paperback)
Motorbooks, 9780760309001, 160pp.
Publication Date: October 1, 2000
* Individual store prices may vary.
Description
Build your own flathead roadster just as it would have been built in the 1950s! Using a 1929 Ford Model A, this guide follows its construction from start to fantastic finish. Bishop begins with a wealth of expert advice on planning your project, finding traditional parts, and acquiring the tools, time, space, and services needed. From frame, front suspension and steering, to brakes, engine and transmission, Bishop's expert approach is fully illustrated with specially commissioned photos and line drawings.
About the Author
Mike Bishop is a lifelong technoid gearhead scribe. He has been the senior editor for the Saturn V press-information package, author of over 30 how-to books on motorcycles, cars, trucks, and snowmobiles, an editor and feature writer for motorcycle and hot-rod magazines, and an award-winning writer/producer of service and sales training videos for the import automobile and motorcycle industries. He is the author of How to Build a Traditional Ford Hot Rod (Motorbooks, 2000).
Praise For How to Build a Traditional Ford Hot Rod (Motorbooks Workshop)…
Ol' Skool Rodz, May 2007
"What makes the book so valuable is the way that Bishop and Tardel explain to the reader not only what they are doing, but the logic behind the decision to do each different aspect of the car a certain way. From picking an intake manifold to deciding on the proper brakes and even choosing the best Flathead block, Vern Tardel's many years of experience in building Ford hot rods is free for the price of a softbound book … Thinking about building a hot rod? This book is a great resource."