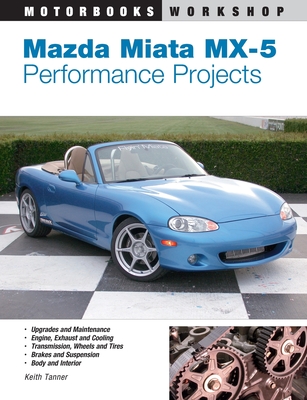 Mazda Miata MX-5 Performance Projects (Motorbooks Workshop) (Paperback)
Motorbooks, 9780760316207, 112pp.
Publication Date: December 14, 2003
Other Editions of This Title:
Paperback (7/15/2007)
* Individual store prices may vary.
Description
The Mazda Miata MX-5 has been a popular car among automotive enthusiasts for more than a decade, and hardly a single one of the more than 500,000 sold has not been customized by its owner in some way. This book provides specific how-to instructions through approximately 35 projects that include both maintenance and modification procedures. Each project is treated separately, giving readers very specific information about the commitment in time, tools, money, and talent for each project.
About the Author
Keith Tanner has been racing, modifying, and writing about Miatas for two decades and currently works full-time at a performance shop that pushes the boundaries of the little sports cars. At home, his garage contains a wide variety of cars that he's built, ranging from a classic Land Rover to a 400-horsepower V8 rally Miata. He's published four books in the Motorbooks Workshop series: Mazda Miata MX-5 Performance Projects; Mazda Miata: Find it, Fix it, Trick it; How to Build a High Performance Mazda Miata; and How to Build a Cheap Sports Car. Tanner has also written a number of magazine articles.
Official Website: http://www.slowcarfast.com
On Facebook: http://on.fb.me/13XBjrm
Praise For Mazda Miata MX-5 Performance Projects (Motorbooks Workshop)…
Grassroots Motorsports, December 2007
"This one is a great handbook for any Miata owner … In fact, the DMV should hand these out to anyone registering a Miata."
Hemmings Sports & Exotic Car, January 2008
"Anyone who owns or is contemplating buying a Miata would do himself a service by picking up this book."
MX-5 club of New South Wales (AUS), June 2007
"It enables the history of this amazing car to be contained in the one edition. For new buyers, here is an opportunity to obtain the complete history of the MX-5, from NA to NC, in the one volume."
CoreMazda.com,Nov. 4, 2007 (views per month unavailable)
"
Its great loads of great pics and tips and things about spec."