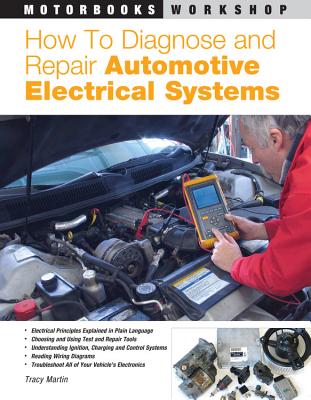 How to Diagnose and Repair Automotive Electrical Systems (Motorbooks Workshop)
Paperback

* Individual store prices may vary.
Description
In How to Diagnose and Repair Automotive Electrical Systems, author and ASE (Automotive Service Excellence) Certified Master Technician Tracy Martin explain the principles behind automotive electrical systems and describes how they work, with a focus on cars of collectible and classic eras. Now, readers no longer need fear that jumble of wires beneath the dash or hood of their vehicle.
Automotive electrical systems can seem a mystery, if not a black art, to the weekend mechanic and even to a number of experienced pros. From Ohm's Law and an explanation of
12-volt systems
to specific electrical scenarios and more, Martin
thoroughly dissects the automotive electrical system
and explains the
various tools
needed for diagnoses and repairs, such as multimeters, voltmeters, timing lights, coil testers, lab scopes, and more. Also included:
Storage batteries
Charging and starting systems
Ignition systems
Fuel injection
Reading wiring diagrams
Troubleshooting
When it comes automotive electrics, readers need never fear being lost in lost in the dark again. Whether you have a bad ground, an amp draw, or some other gremlin,
How to Diagnose and Repair Automotive Electrical Systems
is the best tool available for
understanding and diagnosing
electrical problems.
The Motorbooks Workshop series covers topics that engage and interest car and motorcycle enthusiasts. Written by subject-matter experts and illustrated with step-by-step and how-it's-done reference images, Motorbooks Workshop is the ultimate resource for how-to know-how.
Motorbooks, 9780760320990, 160pp.
Publication Date: November 10, 2005
About the Author
Tracy Martin (tracyamartin.com) is the author of five Motorbooks Workshop series books, including, How To Use Automotive Diagnostic Scanners, How To Diagnose and Repair Automotive Electrical Systems, Motorcycle Electrical Systems Troubleshooting and Repair, How to Tune and Modify Motorcycle Engine Management Systems, and How to Troubleshoot, Repair and Modify Motorcycle Electrical Systems. He also co-authored the Motorcycling Safety Foundation's Guide to Motorcycling Excellence.

Tracy is a regular contributor to several national magazines, including, Motorcycle Consumer News, RoadBike, American Iron Dealer News, and others. Tracy's automotive carrier begin as a high-school auto shop teacher and he has been a consultant for Sun Electric, Nissan of North American, Snap-On Tools, and other automotive aftermarket companies. When he's not writing he teaches advanced motorcycle skills and plays the banjo.