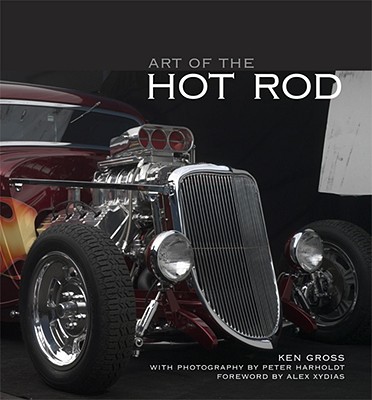 Art of the Hot Rod (Hardcover)
Motorbooks, 9780760322826, 240pp.
Publication Date: October 27, 2008
Other Editions of This Title:
Hardcover (3/10/2020)
Paperback (6/19/2012)
Hardcover (3/1/2016)
* Individual store prices may vary.
Description
The best hot rods are art on four wheels, and this book is nothing less than a gallery of the best of American hot rods. Profiling top builders and featuring studio portraits of their most outstanding custom creations, this book celebrates the uniquely American marriage of mechanical know-how and an inspired sense of style and design. Built from the ground up, pieced together from salvaged parts, rebuilt with classic looks and futuristic technology--these are automotive works of art, as powerful on the page as they are on the street.
See Motorbooks author Ken Gross interviewed by Jay Leno on JayLenosGarage.com: http://www.jaylenosgarage.com/video/art-of-the-hot-rod/1139915/
About the Author
An automobile and motorcycle enthusiast since childhood, Ken Gross was Executive Director of the Petersen Automotive Museum in Los Angeles, California, for five years following a career in advertising and marketing. His car, travel, and motorcycle writing has appeared in Robb Report, the Rodder's Journal, Automobile magazine, and Road & Track.
Peter Harholdt is a lifelong car enthusiast, SCCA racer, and preeminent studio photographer. He has been trusted to photograph countless priceless works of art for museums and exhibit catalogs. He first developed his portable studio to create the stunning hot rod portraits featured in Motorbooks' Art of the Hot Rod.
Official Website: www.peterharholdt.com
Praise For Art of the Hot Rod…
Motortrend.com
Oh, you want this book. You'll drool over this book. Get this book. Written by pal Ken Gross, an auto-journalism veteran who can recite chapter and verse on nearly everything that's ever worn wheels, Art of the Hot Rod (240 pages, hardbound) is a gorgeously produced, large-format feast that pays tribute to the work of twenty of today's most inventive and talented hot-rod craftsmen. As your eyes gaze over the lavish images by renowned photographer Peter Harholdt, just try to find a speck of dust on any of the beautiful machines profiled within. This is auto creativity at its zenith, sculpture on rubber. After you've let this weighty tome enhance your coffee table for a while, file it in your library in the section reserved for "Landmarks of Western Art."
Legendarycollectorcars.com
The closest thing I can compare it to is when I was a teenager with raging hormones and saw my first copy of Playboy. I knew there were some very intriguing stories inside but I couldn't stop looking at the pictures! That is the same way I felt about Art of the Hot Rod. I always go to the photos. You could put this book out on your coffee table, open in up to almost any page, invite some none car folks over to your house and I can almost guarantee you that someone will pick it up and start talking about what they see. Photographer Peter Harholdt is an artist. The way you see these cars through his eyes is amazing. I will never look at a car at a car show the same way again.
or
Not Currently Available for Direct Purchase