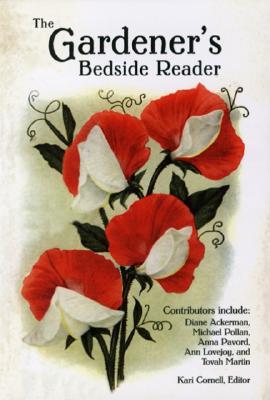 The Gardener's Bedside Reader (Hardcover)
Voyageur Press, 9780760326572, 256pp.
Publication Date: March 15, 2008
* Individual store prices may vary.
Description
In the writings collected in this book, the stories of gardening unfold in the full palette of color and character, of wild imagination and bone-wearying hard work, of fabulous growth and humbling failure. Filled with wit and warmth and a companionable engagement with the land in all its moods and seasons, this wonderful book will see any start-up gardener or seasoned veteran through the most riotous summer of growth or the coldest winter months of waiting and dreaming about what to plant next. Contributors include contemporary essayists Michael Pollan, author of Second Nature and Botany of Desire, Anna Pavord, author of The Tulip, Jamaica Kincaid, author of My Garden (Book), and Diane Ackerman, author of Cultivating Delight. In addition, renowned gardeners and designers—from Vita Sackville-West and Beverley Nichols to Ann Lovejoy and Tovah Martin—eloquently share their experiences "in the dirt" with humor and passion.
Botanical drawings, beautifully illustrated vintage seed catalogs, postcards, and photography by world-renowned gardening photographers Jerry Harpur, Jane Booth, and Richard Brown accompany the text.
About the Author
Editor Kari Cornell has been knitting and collecting vintage patterns for years. She lives in Minneapolis with her husband, two sons, and a beagle. Jennifer Simonson is a photographer in Minneapolis, MN. Her photographs have appeared in Sew Retro, published by Voyageur Press, and the Minneapolis Star Tribune.
Praise For The Gardener's Bedside Reader…
"By day, we are tucking our gardens in for the snow-blowy days we know aren't too, too far away.  So, at night, it's not too soon to curl up with great good bedtime reads, about--what else--the garden. The collection of writers tucked inside the covers of "The Gardener's Bedside Reader", edited by Kari Cornell, well, it's enough to make for the sweetest dream.  There's ever-brilliant Michael Pollan, who takes us into his rose garden, and Susan Orlean, she of "Orchid Thief" fame.  And, for those of us still mourning Tasha Tudor's passing last summer, there is Tovah Martin who tiptoes into the great illustrator's Vermont garden.  Not only is the book spilling with succulent words and passages but there are charming vintage illustrations from seed packets and flower catalogs, and decadent photos of gardens to whip your dreams into a frenzy." — Chicago Tribune, Sunday, October 12, 2008
"The collection of articles in the Bedside Reader is quite impressive…The Bedside Reader is aptly named.  Each article is the perfect length for weary gardeners to get through before falling asleep at night.  Each article is unique and sets the stage for beautiful dreaming about gardening.  I very much recommend this book...it is a pleasure to read." —Washington Gardener, November/December 2008
"By day, we are tucking our gardens in for the snow-blowy days we know aren't too, too far away.  So, at night, it's not too soon to curl up with great good bedtime reads, about--what else--the garden. The collection of writers tucked inside the covers of The Gardener's Bedside Reader, well, it's enough to make for the sweetest dreams…Not only is the book spilling with succulent words and passages but there are charming vintage illustrations from seed packets and flower catalogs, and decadent photos of gardens to whip your dreams into a frenzy." – Chicago Tribune, October 12, 2008
"Editor Kari Cornell brings together familiar contemporary voices on plants, gardening, and natural history such as Anna Pavord, Diane Ackerman, Dan Hinkley, Tovah Martin, and Ann Lovejoy. This prose celebrates the backyard garden and might even inspire a little digging, especially after excerpts such as Lee May's that starts, 'In this year's first blushes, promise springs eternal. This is the year I keep a vow to my father and myself; I'll be growing vegetables again.' This collection is inspiring, funny, and at times lofty: a good primer to the entertaining range of voices that are contributing to modern garden writing." – American Gardener July/August 2008

"In this beautifully illustrated anthology, editor Cornell gathers a delightful mix of 24 essays and book excerpts that are the perfect antidote for those times when we can't actually be in our gardens." — Library Journal Xpress Reviews
or
Not Currently Available for Direct Purchase