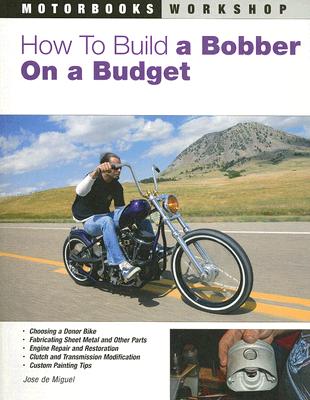 How to Build a Bobber on a Budget (Motorbooks Workshop) (Paperback)
Motorbooks, 9780760327852, 160pp.
Publication Date: February 15, 2008
* Individual store prices may vary.
Description
In the old days all a person needed to build a killer custom motorcycle was a bike, a set of tools, a little know-how, and a creative vision. But with the rise of the high-dollar, haute moteur Gucci choppers, the true custom bike has gotten out of most riders' reach, right?
Dead wrong. In this book Jose de Miguel, a custom builder from way back, sets out to prove that those good old days never ended. In the clearest and simplest terms, he shows readers how they can turn odds and ends found around the shop into one-off motorcycle parts--and make a cheap, run-of-the mill custom build into a drop-dead show stopper. Following de Miguel's lead, along with his straightforward illustrations, any resourceful owner with rudimentary mechanical skills, a basic tool kit, and--most importantly--a modicum of imagination can build the bobber of his dreams for less than the price of a new bike.
About the Author
Former professional race car driver Jose de Miguel began building custom motorcycles in his home town of San Juan, Puerto Rico from necessity. In San Juan a rider had to build his own custom bike because there were no custom shops at the time. Today he runs the thriving Caribbean Custom Motorcycle shop in San Juan, but he still relies on the resourcefulness and creativity that made his early builds possible.
Praise For How to Build a Bobber on a Budget (Motorbooks Workshop)…
Teknikka.com Review:
"Each chapter explains, in a mentor-like style, how to approach each phase of your budget build in a realistic fashion. You are also given lots of little tips for working in the garage, things to be careful of and finding all those unique items for your ride. This really works out to a cliffs notes of 15 years experience of putting custom bikes on the road. It's definitely worth reading through prior to your first project. Ever wonder where do all those cool looking knobs on jockey shifters come from? They don't come from Custom Chrome or the Harley dealership. You'll have to read the book to find out."