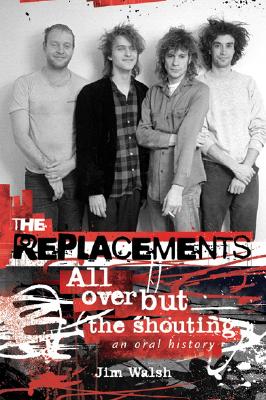 The Replacements (Hardcover)
All Over But the Shouting: An Oral History
Voyageur Press, 9780760330623, 304pp.
Publication Date: November 15, 2007
Other Editions of This Title:
Paperback (11/30/2009)
* Individual store prices may vary.
Description
At the dawn of "Morning in America"--a period that would nurse the rise of suit-and-tie culture--there emerged a national network of anti-corporate record shops, college radio stations, fanzines, nightclubs, and entrepreneurial record labels.
In the watershed year 1981, this "indie" scene fostered several seminal releases. Among recordings by bands such as Sonic Youth, Black Flag, Husker Du, The Minutemen, and R.E.M. was an album called "Sorry Ma . . . Forgot to Take Out the Trash", recorded by a scruffy, flannel-clad quartet from Minneapolis called The Replacements. Now, for the first time, all of the hearsay, half-truths, legends, and allegations associated with this maelstrom of a rock & roll band are unraveled in this oral history by longtime Twin Cities music journalist Jim Walsh.
Through interviews with family, friends, and fans; former manager Peter Jesperson; Twin/Tone record label cofounder Paul Stark; and musicians around the nation influenced by the band, Walsh lays bare with painful clarity a tale that unfolds like a tragic comedy in three perfect acts. Celebrated by national publications, "the Mats" often seemed more hell-bent on sabotaging their status as critical darlings than parlaying it. With their markedly apolitical stance amid their decidedly political peers, their uncool embrace of "classic rock" influences like KISS and The Faces, and their Dionysian appetites (and the resulting tendency to literally fall on their own faces), The Replacements lasted 12 years despite themselves.
From the bands founding to their rise through the local and national club circuits, their major label deal in 1985, and the slow and painful implosion that followed, The Replacements: All Over But the Shouting lays down the gripping oral history behind the little band that could--but didn't.
About the Author
Jim Walsh spent several years singing in Twin Cities bands before turning to rock journalism. In 1990 he became the music editor at City Pages, an alternative weekly in Minneapolis. Three years later, he joined the St. Paul Pioneer Press as the pop music columnist and as a feature writer, and in 2002 he left Minnesota to study at Stanford University on a John S. Knight Fellowship. Walsh returned to Minneapolis in 2003, where he lives with his wife and two children, and performs and records as his musical alter ego, The Mad Ripple (www.myspace.com/themadripple and www.myspace.com/madripplemusic).
Praise For The Replacements: All Over But the Shouting: An Oral History…
CMJ New Music Monthly
"For those who saw the Replacements in their prime, it's odd to notice that their lasting influence seems to be congealed into the sappy sides of middling emo bands who really like Don't Tell a Soul. But don't blame the Minneapolis slop-rock gods for that foible. Get a feel of their real ragged soul from this bio, cobbled together by a guy who was in a Minneapolis band form back in the drunken daze and saw the Replacements at their very first bar show and a million times after that as a pal and sometime roadie....since we've rarely been privy to those fellas' thoughts, or the cool old pics throughout, this tome is invaluable. Plus, it also helps cement the truly lasting and fruitful fact that the Replacements, and the everyman Minneapolis scene, saved punk from '80s bald-headed hardcore dogmatics."
Minneapolis Star Tribune
"The Replacements is uniquely, proudly the story of the Minneapolis band from the vantage point of the Minneapolis scene…Funny, intense, sad and joyful."
Publishers Weekly, Oct. 15, 2007
"In this loving, appropriately ramshackle tribute to one of the most beloved rock-and-roll bands of the 1980s, Walsh gives his subjects the oral history treatment, assembling a wide range of associates, friends and famous fans to put their memories on the record. The band's story is an archetype of the joys and pitfalls of underground success – a rabid and loyal local following leads to a major label contract that, with its attendant pressures and misunderstandings, brings about the band's slow dissolution and demise. The great moments in their history are all recounted here in warm detail: lead singer Paul Westerberg breaking copies of his new record Hootenanny in the local record store; the drunk Oklahoma City show attended by 30 people that still led to a live album; the triumphant disaster of their first and only appearance on SNL. The self-destruction of Bob Stinson, the band's hilarious but alcoholic guitarist who died in 1995, is a fascinating and harrowing counterpoint throughout to the band's adventures. Walsh himself proves to be among the band's most eloquent and thorough defenders and explainers in his introductory essay and various excerpts from articles that appear throughout this consistently engaging and poignant work."

Booklist
"The Replacements were a careening indie rock band of the 1980s that garnered more reputation than commercial success (of which they received hardly any). Somehow the scruffy Minneapolis foursome managed to last 12 riotous years. During that time, they staged some legendary "you had to be there" shows and were worshipped by fans with the fervor of the recently converted. What was it about these guys? Was it the goofy-looking guy in a dress, who played scorching lead guitar? Or the sensitive lead singer-songwriter, who shredded his vocal cords on cuts like "I Hate Music"? Walsh, pop-music columnist for the St. Paul Pioneer Press, doesn't try to answer such questions as much as capture the time and place of the happening that was the Replacements. His oral history recounts the differing reactions of musical contemporaries such as Bob Mould of Husker Du, rock critics such as Steve Albini, and members of the Replacements themselves. But the best remembrances come from ordinary fans, who saw in these awkward adolescents kicking at the status quo something that made them say, "Hey, that's us." Recommended, maybe must reading for fans of the Replacements and indie rock in general. Album art, candid photos, and early handbill posters complement the text.
ALARM Magazine
"Having literally grown up with The 'Mats, as their fans affectionately refer to them, and remaining a friend and fan to this day, veteran journalist Jim Walsh, author of The Replacements: All Over But the Shouting: An Oral History, is perhaps the perfect person to tell their tale…Walsh presents the 'Mats in a multidimensional light, illustrating their talents and charisma, while also depicting a band that struggled with many challenges that early success can bring, and showing how easy it can be to fall into a cycle of self-destruction. But rather than turning it into a tabloid, the impression he leaves is sensitive and human.
"Compiled from hours of personal interviews and research extracted from countless articles and reviews from years past, The Replacements is clearly a labor of love. The memories from those who were there are convincing enough that even if the reader had never heard of The Replacements, it is clear how they could become heroes to their fans. In cities across America, the names and places may have changed, but the story remains the same."

St. Paul Pioneer Press
"Jim Walsh expertly navigates the divide between the truth and otherwise in his new book, The Replacements: All Over but the Shouting. It's a compulsively readable, passionately compiled oral history of the infamous Minneapolis foursome who spent the '80s writing a new rock 'n' roll fairy tale while simultaneously ripping out its pages."
or
Not Currently Available for Direct Purchase