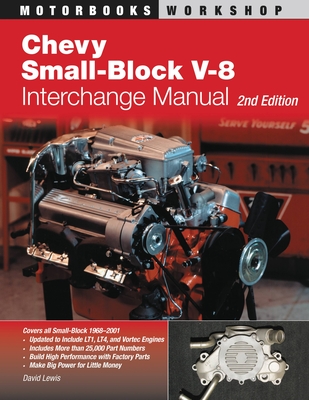 Chevy Small-Block V-8 Interchange Manual
2nd Edition (Motorbooks Workshop)
Paperback

* Individual store prices may vary.
Description
The small-block Chevrolet engine is the most popular engine in the world among performance enthusiasts and racers.  But with its popularity come certain problems--its more-than-45 years of production have led to countless permutations, making modification or repair a confusing proposition.  This book makes sense of that confusion for anyone working on a small-block Chevy engine.  The most complete encyclopedia ever assembled, cataloging all 1968 to 2000 small-block Chevrolet V-8 engines, this manual includes more than 25,000 part numbers, specs, dates and technical details on engine blocks, heads, valves, crankshafts, camshafts, pistons, manifolds, ignition systems, emission systems, computer controls, motor mounts and more.  More than 300 photos, diagrams, charts and tables reference all available Chevy equipment and its interchange uses.  Filled with advice on which parts work best for special applications and tips on component selection, this book is the essential tool for anyone with a small-block Chevy engine.
Motorbooks, 9780760331668, 176pp.
Publication Date: April 15, 2009
About the Author
Pierre Lafontaine was born in Quebec, Canada in 1958. Though he graduated as a Mechanical Engineering Technologist from Mohawk College, he was soon attracted to the world of high performance engine building and began an apprenticeship as an Automotive Machinist. He acquired a machinist certificate of qualification and worked in the field full time for 20 years. Now owner of Air Inlet Systems, he has written the Small Block Chevy ID Guide and editorials in Canadian Classics magazine. He is married to Laura and has 3 children , Samantha, Zackary & Elizabeth.