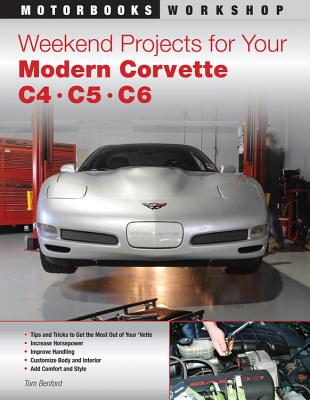 Weekend Projects for Your Modern Corvette (Paperback)
C4, C5, & C6 (Motorbooks Workshop)
Motorbooks, 9780760335406, 224pp.
Publication Date: November 7, 2009
* Individual store prices may vary.
Description
However perfect a Corvette may be, it can always use a little work--upgrades to the engine or body, performance improvements, modifications to make it your own.  And whatever you want to do to your Corvette, this book shows you how.  Covering the three modern generations of America's favorite sports car, Weekend Projects for Your Modern Corvette is the ultimate guide for maintaining, upgrading, and personalizing your Corvette.  Basic maintenance, bodywork, painting, interior upgrades, audio/visual customizations, wheels, tires, shocks, lights and electrical, accessories--a total of 52 projects, one for every weekend, for a year's worth of Corvette upgrades; and the author details the needed skills, tools, and parts, as well as how much time and money you can expect to spend.  As the title suggests, all of these projects can be completed in a few hours over the weekend.  Whichever model (or models) you own, Weekend Projects for Your Corvette is the book that can take your Corvette that much closer to the car of your dreams.
About the Author
Tom Benford has been a freelance journalist for more than 30 years and contributes regularly to several national magazines. His titles for Motorbooks include Corvette: Five Decades of Sports Car Speed, Corvette Performance Projects 1968–1982, Corvette Gallery, Garage and Workshop Gear Guide, The Street Rod, and others. He lives in Brick, New Jersey.