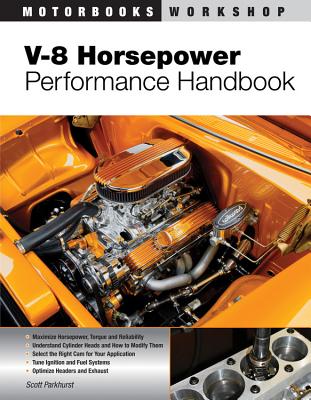 V-8 Horsepower Performance Handbook (Motorbooks Workshop) (Paperback)
Motorbooks, 9780760335529, 160pp.
Publication Date: November 7, 2009
* Individual store prices may vary.
Description
A high-performance engine is more than the sum of its parts. It is an intricate system of interacting components and will reach its full power only if treated as such: an integrated whole. And this is precisely what the V-8 Horsepower Performance Handbook does. Approaching the engine as a system of interdependent components that must work in perfect harmony, the book provides the working knowledge for keeping a V-8 at the top of its form. And for those who'd like to understand how the engine works, the book also includes lucid explanations, beginning with the theory of cylinder head flow.
In clear, easy-to-follow terms, custom V-8 builder Scott Parkhurst offers detailed information and expert advice about block preparation, choosing a reciprocating assembly, and selecting a cam to compliment the heads and meet your own driving needs and performance goals. He also addresses ancillary components such as carburetion, fuel injection and header selection. Whether your V-8 powers a performance car, a truck, or even a boat, this fully charged handbook supplies all the know-how to get it--and keep it--running at its peak.
About the Author
Scott Parkhurst's experience with high-performance V-8 engines began before he had his driver's license. Working as a technician in race-engine shops, he learned much about the professional preparation of high-output V-8s. Parkhurst then spent seven years as technical editor at Popular Hot Rodding magazine and co-founded the Engine Masters Challenge competition, developing its innovative format and writing its rules. The success of the Engine Masters Challenge led to Engine Masters Quarterly magazine, with Parkhurst as its founding editor. The opportunity to launch a new enthusiast magazine brought him to Minneapolis, Minnesota, where he was the founding editor of Street Thunder. After some three years guiding this performance publication, Parkhurst left Street Thunder to pursue other gearhead interests. He still works directly with enthusiasts to develop custom V-8s to suit their specific needs, and of course, in his spare time he builds engines for his own projects.
Praise For V-8 Horsepower Performance Handbook (Motorbooks Workshop)…
"The best thing about this book is the down-to-earth presentation geared to novice and first time engine builders . . . If you've never built an engine or have limited experience, this book points out all the important details you have to keep in mind when planning and building high performance engines. It's not just recommended reading, it's an essential read for anyone contemplating a high performance engine build." - HotRodEngineTech.com
or
Not Currently Available for Direct Purchase