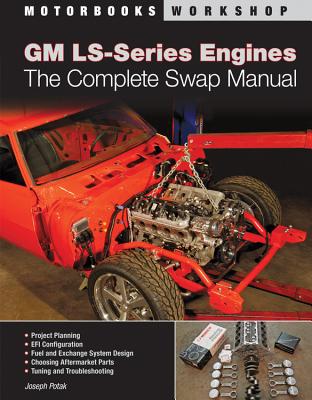 GM LS-Series Engines (Paperback)
The Complete Swap Manual (Motorbooks Workshop)
Motorbooks, 9780760336090, 192pp.
Publication Date: May 18, 2011
* Individual store prices may vary.
Description
Variants of GM's groundbreaking family of LSX engines are installed in everything from its most mundane panel vans to its earth-shaking Corvette ZR1. First seeing the light of day in the 1997 Corvette, the LS1 and its successors have proven powerful, reliable, and amazingly fuel-efficient.
Performance enthusiasts have embraced this remarkable V-8, and it has quickly become a favorite subject for engine swaps. Why? Because the versatile engine offers fantastic power, a compact design, and is light weight. Even better, it responds very well to modification. It is everything the high-performance enthusiast could want.
GM LS-Series Engines details all of the steps necessary from concept to completion, including fabrication and installation of motor mounts, wiring, fuel system, and driveline considerations. This is the ultimate guide to installing the LSX in your GM muscle car!
About the Author
Joseph Potak is a professional LS-series engine specialist and technician. He has worked for Texas Speed and Performance since 2002 and caters directly to the performance needs of owners of LSX-equipped vehicles. In his free time, Joseph volunteers as a Forum Director within the www.LS1Tech.com community.
Praise For GM LS-Series Engines: The Complete Swap Manual (Motorbooks Workshop)…
"Anyone contemplating such a swap - even if they have one or two under their belt - would be sure to save countless hours of thought and / or frustration by reading through this book first ...... and would likely keep it on the workbench during the entire process." - American Camaro Association
"Potak supplies the wealth of knowledge necessary to take advantage of this remarkable engine between the fenders of almost any car or truck you wish to upgrade. When you're finished you'll have a powerful and reliable LS powered vehicle that takes full advantage of all the best OEM and aftermarket technology to deliver the performance you desire." - HotRodEngineTech.com