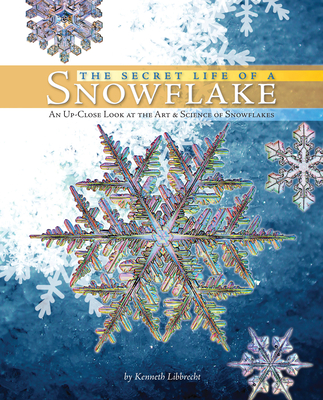 The Secret Life of a Snowflake
An Up-Close Look at the Art and Science of Snowflakes
Hardcover

* Individual store prices may vary.
Description
Before a snowflake melts on your tongue, it makes an epic journey. This is the beautiful, full-color story of that journey, step by step, from a single snowflake's creation in the clouds, through its fall to earth, to its brief and sparkling appearance on a child's mitten. Told by a scientist who knows snowflakes better than almost anyone, the story features his brilliant photographs of real snowflakes, snowflakes forming (in the author's lab), water evaporating, clouds developing, ice crystals, rain, dew, and frost--all the elements of the world and weather that add up, flake by flake, to the white landscape of winter. Aimed at readers from 6 to 12, The Secret Life of a Snowflake gets to the heart of one of nature's most magical phenomena while making the wonder of the snowflake all the more real.
Praise For The Secret Life of a Snowflake: An Up-Close Look at the Art and Science of Snowflakes…
A PICTURE BOOK NOT TO MISS: Caltech physics professor Kenneth Libbrecht has translated his passion for ice crystals into an extraordinary book for young people, "The Secret Life of a Snowflake: An Up-Close Look at the Art and Science of Snowflakes" (Voyageur Press: $17, all ages). How rare it is for a scientist to be able to describe his work this simply: "I look at snowflakes under a microscope and take pictures of what I see." – LA Times
This beautiful book is worth spending time with. Trust me, it's nothing like the piles of slippery stuff in your driveway. "The Secret Life of a Snowflake" features stunning photography (the kind you linger over) and science that's fun and informative. – Cape Cod Times
The next time it snows, I am heading outside with magnifying glass in hand, inspired by "The Secret Life of a Snowflake'' by Kenneth Libbrecht (Voyageur). The target readers are 9- and 10-year-olds, but the book deserves a broader audience. A snowflake researcher at Caltech, Libbrecht is as enthusiastic about science as he is about the beautiful photographs he takes of snowflakes under a microscope. – Boston Globe
Depending on where you live, you may have already seen a lot of snow this winter. But you've probably never seen it like this. The author, a professor of physics at the California Institute of Technology, presents super-close-up photos of snowflakes, taken under a microscope, for a crystal-clear look at one of nature's most delicate, dazzling displays. – American Profile
Aimed at kids but sure to engage any snow-loving adults Kenneth Libbrecht's photos capture true works of nature's art, and his text reveals a lot about where they come from and how they get here. Oh, and you can learn how to make a paper snowflake -- the right way. –
StarTribune
His latest book is for kids: The Secret Life of a Snowflake, a fascinating look at the science of frozen crystals that will appeal to adults, too…His book, a beautiful blend of art and science, includes instructions for the proper way to fold and cut a snowflake from paper. – Columbus Dispatch
Extraordinary photographs of individual snowflakes are the true highlight of this informational book. With crisp detail and lit up with colored light, the crystals are mesmerizing in their clarity and brilliance. Libbrecht uses a first-person narration to describe the microphotography process that he uses to create the images and then goes on to outline the life cycle of a snowflake…A solid addition to any science collection, this book will draw in young enthusiasts, and the beautiful photographs will engage casual browsers. - School Library Journal
Most children are naturally interested in snowfall and snowflakes; they are a favorite subject of art activities in schools in the winter months. This book will captivate readers. It does an excellent job of integrating the science behind snowflake formation and the beautiful natural art that is the end result. Written by a physicist who studies snowflake form, the text is very informative and covers many science concepts related to the subject (such as light and color, the water cycle, crystal formation, and molecular structure). The accompanying photographs are exquisite, and the diagrams clarify the scientific content in an effective manner. There are a few suggested activities in the text that a classroom teacher could easily do with students, such as making paper snowflakes and observing snowflakes under a microscope. This is a great resource for integrated lessons at the elementary and middle school level. - National Science Teachers Association
Voyageur Press, 9780760336762, 48pp.
Publication Date: January 1, 2010
About the Author
Kenneth Libbrecht is a professor of physics at Caltech, where he studies the molecular dynamics of crystal growth, especially how ice crystals grow from water vapor, which is essentially the physics of snowflakes. He has authored several books on this topic, including The Snowflake: Winter's Secret Beauty, The Snowflake: Winter's Frozen Artistry, The Art of the Snowflake, and Field Guide to Snowflakes. Dr. Libbrecht served as science consultant on the Disney film Frozen. He lives in Pasadena with his wife, Rachel Wing. They have two children.