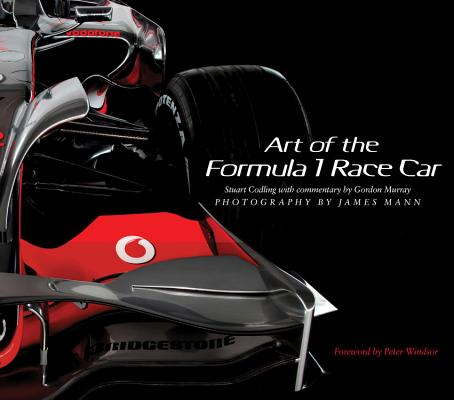 Art of the Formula 1 Race Car (Hardcover)
Motorbooks, 9780760337318, 208pp.
Publication Date: April 5, 2010
Other Editions of This Title:
Hardcover (5/15/2014)
* Individual store prices may vary.
Description
For Art of the Formula 1 Race Car, master automotive photographer James Mann brings a selection of these spectacular machines into the studio, and through his lens we see not just the engineering brilliance of these cars, but also their inherent beauty: They are works of art, the fascinating results of Formula 1's mix of competition, creativity, and human ingenuity. With historical and technological profiles by noted F1 journalist Stuart Codling and commentary from championship-winning car designer Gordon Murray, this book is the ultimate homage to the ultimate breed of race car.
About the Author
Journalist and broadcaster Stuart Codling has worked in motorsports for over a decade, covering sports cars in the United States before joining F1 Racing, the world's best-selling Formula 1 magazine. He has ridden pillion with World Superbike Champion Neil Hodgson, gone snowboarding with (former) FIA President Max Mosley, and been sworn at by ex-Ferrari F1 driver Eddie Irvine. He has appeared as an F1 expert on TV and radio, has hosted for Renault F1, and contributes to F1 Racing, Autosport, and Autocar. He is the author of the Motorbooks bestsellers Art of the Formula 1 Race Car and Real Racers. Read more about him on his website: www.stuartcodling.com.
James Mann is one of the world's leading car and motorcycle photographers, with more than 20 years of experience shooting for enthusiast publications, the motor industry, and businesses around the world. His work has appeared within and on the covers of more than 50 books and has provided stunning visuals for numerous magazines, including Classic and Sports Car, CAR magazine, Forza, The Sunday Times, and Automobile magazine as well as being chosen to photograph the British Auto Legends stamps for the Royal Mail. His advertising clients include Aston Martin, BMW, and Toyota, among others. Visit his website at www.jamesmann.com
Stuart Codling is one of Formula 1's pre-eminent photojournalists. His twelve-year career in motorsport has taken him from riding pillion with World Superbike champion Neil Hodgson to snowboarding with FIA President Max Mosley--and being shouted at by Eddie Irvine. He has worked in Formula 1 since 2001, writing for the world-leading magazines Autosport and F1 Racing. This is his first book.ÿJames Mann is one of the world's leading car and motorcycle photographers, with more than twenty years of experience shooting for car and bike publications, the motor industry, and businesses all over the world. His work has appeared within and on the covers of more than forty books and has provided stunning visuals for numerous magazines, including Classic and Sportscar, CAR magazine, Automobile Quarterly, Autocar, Motorsport, Automobile magazine, and many others. His advertising clients include Aston Martin, Rolls-Royce, BMW, and Toyota, amongst others. James is the author of the Motorbooks title How to Photograph Cars. Visit his website at: www.mannphoto.co.uk.ÿStuart Codling is one of Formula 1's pre-eminent photojournalists. His twelve-year career in motorsport has taken him from riding pillion with World Superbike champion Neil Hodgson to snowboarding with FIA President Max Mosley--and being shouted at by Eddie Irvine. He has worked in Formula 1 since 2001, writing for the world-leading magazines Autosport and F1 Racing. This is his first book.ÿJames Mann is one of the world's leading car and motorcycle photographers, with more than twenty years of experience shooting for car and bike publications, the motor industry, and businesses all over the world. His work has appeared within and on the covers of more than forty books and has provided stunning visuals for numerous magazines, including Classic and Sportscar, CAR magazine, Automobile Quarterly, Autocar, Motorsport, Automobile magazine, and many others. His advertising clients include Aston Martin, Rolls-Royce, BMW, and Toyota, amongst others. James is the author of the Motorbooks title How to Photograph Cars. Visit his website at: www.mannphoto.co.uk.ÿ
Praise For Art of the Formula 1 Race Car…
"I think there is little doubt that any F1 fan – or any motorsport fan, for that matter, and perhaps a wider swath than that – will enjoy this book. It's more than worth checking out." – Formula1Blog.com  

"April 12, 2010 will see another coffee table book on Formula One. This desirable new entry from Motorbooks International, Art of the Formula 1 Race Car, features studio photographs of some of the most significant cars of the post war championship era. The photos serve to make the book gorgeous, the words that accompany James Mann's photos, plus archive photos from LAT and teams, are from Stuart Codling. Codling has covered Grand Prix racing for over a decade and was picked by Peter Windsor for the book when Windsor couldn't accept the assignment. Gordon Murray adds his own perspective with comments on the cars selected for the book. Murray worked on and designed several so his knowledge is first hand. This is a book destined for the libraries of any true motorsports fan, not just those who love Grand Prix racing. Not every great development started with a great team. You may be surprised where some ideas started. Look for the Art of the Formula 1 Race Car at your local book seller. You'll be glad you bought it." – MotorSportsForum.com
"With additional commentary by Gordon Murray and stunning studio photography by James Mann, this work is the perfect blend of pictures, analysis and the racing history of these remarkable racing machines." - Road & Track
"In a chance to see Formula One cars when they are not moving at high speed, the book aims to display the vehicles as works of art. The collection of images covers nearly 60 years of motoring and, although the top speeds of the cars may have changed over time, it is clear to see that the beauty of their designs remains as captivating as ever." – CNN.com

"I can't put this book down." - Autocar.co.uk

"Art of the Formula 1 Race Car" has instantly placed itself among my favourite motorsport books. What marks this book out from your regular coffee table F1 photo album however, is Stuart Codling's wonderfully written commentary. Stuart perfectly captures not only the stories behind the concept, design and realization of these magnificent cars, but also manages to provide a history of their racing careers whilst also reflecting the heartstring-pulling passion which their sumptuous lines evoke. And with expert analysis from design legend Gordon Murray, you're pretty much in F1 heaven." - Willthef1journo.wordpress.com

"Codling's pairing with Murray, a former chief designer at Brabham under one Bernie Ecclestone, is pretty ingenious, as it adds a technical but also lyrical perspective to the historical focus of Codling's writings. But it probably is not going to be either of their work that immediately grabs – and holds – readers' attention. It will be the stunning and artful, often intimate, photograph by James Mann, whose work has appeared in too many magazines and books to name. His photograph captures a key aspect to the history of Formula 1, the changing and evolving designs of the machines in which drivers both fearless and slightly mad have done battle for 60 years. It's pretty cool, for sure. And the front and rear shots of the car are nothing but beautiful. It's more than worth checking out." – Formula1Blog.com