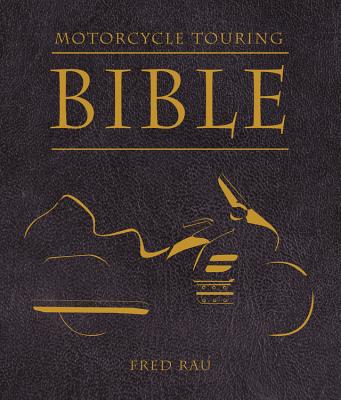 Motorcycle Touring Bible (Paperback)
Motorbooks, 9780760337417, 224pp.
Publication Date: January 8, 2011
* Individual store prices may vary.
Description
Touring on a motorcycle has never been more popular than it is today, but with more and more people hitting the open road, a growing number are doing so without the proper skills and information they need to survive the ordeal. Far too often the trip of a lifetime turns into an unmitigated disaster, leading to expensive breakdowns, arrests, lost wages, broken limbs, death, and even, on more than one occasion, divorce. Most people who travel aboard motorcycles have learned these lessons the hard way, if they've survived long enough, but now readers of the Motorcycle Touring Bible can learn an easier way; they can learn from author Fred Rau's mistakes rather than through the school of hard knocks.

About the Author
Fred Rau has been a professional motorcycle journalist for more than 35 years, serving as the editor of Wing World, the magazine for the Gold Wing Riders Association, and as the managing editor of Road Rider. In 1991 he co-founded Motorcycle Consumer News. He has ridden well over one million miles on all types of motorcycles and currently operates Fred Rau Adventure Tours. He lives in Mission Viejo, California.
Praise For Motorcycle Touring Bible…
"Some touring veterans, like Fred Rau, have a knack for putting wisdom into words. Whether you're new to the motorcycle travel or a hard-boiled pro, check out Rau's Motorcycle Touring Bible." - Rider Magazine 
"If you are a newbie to the incredibly large group of motorcycle touring lovers then this book is a must read for you. But, even if you have thousands of touring miles behind you, you will probably learn quite a bit too. The "Bible" may be written for the newbie, but there was plenty for us to learn as well." - Backroads 
"With all those decades of riding motrocycles under his belt, Rau has the requisite experience and knowledge to write THE instruction manual on motorcycle touring. Fred Rau's book is a worthwhile primer for touring newbies - as well as a good look for experienced riders to thumb through on that lazy Sunday when the weather outside is not fit for man nor bike." - Friction Zone 
"All in all this is an enjoyable look into the philosophy of one of the giants in the motorcycle industry." - Bikernet.co