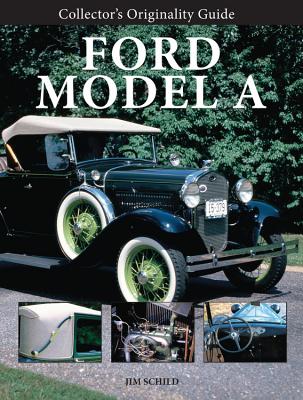 Collector's Originality Guide Ford Model A (Paperback)
Motorbooks, 9780760337462, 128pp.
Publication Date: December 4, 2009
* Individual store prices may vary.
Description
Collector's Originality Guide: Ford Model A is the definitive guide to one of the greatest cars in American history: The Ford Model A. The successor to the ubiquitous and world-changing Model T, the Model A arrived on the scene in 1928 to considerable fanfare, thanks to the marketing genius of Henry Ford. And this much-hyped car delivered exactly what the public wanted: a solid, reliable, up-to-date--and beautiful--new car. Naturally, this car became an instant classic, and has been a favorite among collectors and restorers for decades.
In this paperback reissue of the highly popular hardcover book, author and photographer Jim Schild walks through all of the details of the Model A's four-year production, providing collectors with everything they need to know to identify, classify, and restore these fabulous cars. Filled with gorgeous color photography, this book has been and continues to be a must-have for all Model A fans. 
 
About the Author
Jim Schild is the publisher of The Auto Review and is the author of several books in the Collector's Originality Guide series, including Challenger and Barracuda 1970–1974, Chevrolet Camaro 1970–1981, and Ford Model A. He has also written two acclaimed histories of Chrysler's racing efforts, Proving Ground: A History of Dodge, Plymouth, and Chrysler Racing, and Maximum Performance: Mopar Super Stock Drag Racing 1962–1969. Schild lives in Columbia, Illinois, and is a member of 15 local and national collector car organizations, including the Society of Automotive Historians.