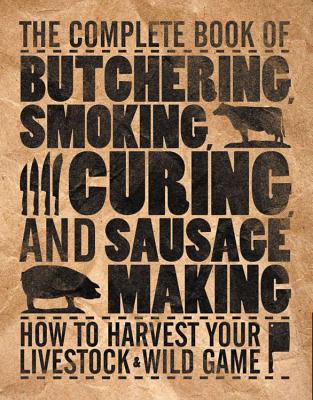 The Complete Book of Butchering, Smoking, Curing, and Sausage Making (Paperback)
How to Harvest Your Livestock & Wild Game (Complete Meat)
Voyageur Press, 9780760337820, 256pp.
Publication Date: September 10, 2010
* Individual store prices may vary.
Description
Here's the ideal hands-on guidebook for self-sufficient farmers, ranchers, and hunters with step-by-step instructions on butchering beef, venison, pork, lamb, poultry, and goats. Time-tested advice on how to cure the meat by smoking or salting helps you preserve your harvest. A final section explains how to make sausages. Numerous mouth-watering recipes are included.
About the Author
Philip Hasheider is a farmer and writer. He's the author of How to Raise Cattle; How to Raise Pigs; The Complete Book of Butchering, Smoking, Curing, and Sausage Making; The Hunter's Guide to Butchering, Smoking, and Curing Wild Game and Fish; and The Complete Book of Jerky: How to Process, Prepare, and Dry Beef, Venison, Turkey, Fish, and Moreâ??. A former cheesemaker's assistant, he lives on a farm near Sauk City, Wisconsin.
Praise For The Complete Book of Butchering, Smoking, Curing, and Sausage Making: How to Harvest Your Livestock & Wild Game (Complete Meat)…
For those of you who are serious about your hunting and meat processing, this is an excellent guide through the world of meat and muscle...Pick it up if you've ever considered butchering your own meats or making your own sausage, or if you'd just like to appreciate what goes into the process. - EDIBLE MEMPHIS