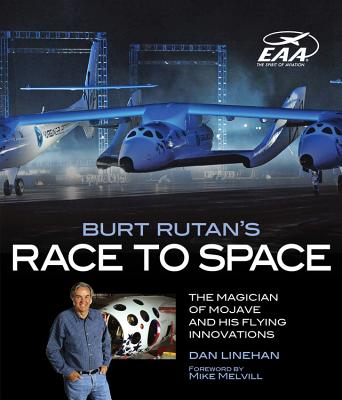 Burt Rutan's Race to Space (Hardcover)
The Magician of Mojave and His Flying Innovations
Zenith Press, 9780760338155, 160pp.
Publication Date: July 7, 2011
* Individual store prices may vary.
Description
Years ago, Burt Rutan told a reporter for Popular Mechanics, "If we make a courageous decision like the goal and program we kicked off for Apollo in 1961, we will see our children or grandchildren in outposts on other planets." Legendary science-fiction writer Arthur C. Clark would later recall Rutan's quote in a piece he wrote about SpaceShipOne and comment, "Fortunately, we need not rely solely on governments for expanding humanity's presence beyond the Earth."
Burt Rutan's Race to Space showcases Rutan's herculean efforts to do just that. Smithsonian's Air and Space Museum displays his most celebrated achievements, including SpaceShipOne, which won the coveted $10 million Ansari X Prize for private spaceflight; Voyager, which hangs with SpaceShipOne in the Milestones of Flight gallery; the Virgin Atlantic GlobalFlyer; and the VariEze. His many aerospace innovations preceding his most recently conceived designs, SpaceShipTwo and WhiteKnightTwo, chronicle a progressive, step-by-step attempt to break barriers with engineering know-how and a wondrous imagination, all the while remaining on the forefront of the burgeoning private spaceflight industry. Rutan's X Prize triumph and subsequent spacecraft designs are not a beginning, nor an end, but are steps in Burt Rutan's continuing adventure to expand humanity's presence beyond the Earth and into space.
About the Author
In 2004, Dan Linehan attended the launch of SpaceShipOne when it captured the Ansari X Prize. He has a background in physics and engineering and has written numerous articles about aviation and space. During 2006 and 2007, he spent two months studying wildlife and environmental concerns in Antarctica and its surrounds. Dan lives in Monterey, California.In 2004, former engineer Dan Linehan attended the launch of SpaceShipOne when it captured the Ansari X Prize. His first book was SpaceShipOne: An Illustrated History, the authoritative account of this private spaceflight milestone. His job as a freelance writer takes him around the world and allows him to explore. His publications range from poems about fishermen in local newspapers to articles about superconductors in scientific journals. In addition, Dan has consulted as a senior science editor for educational publishing companies since 2003. He has a strong interest in environmental issues and enjoys many forms of writing. Dan lives in Monterey, California.
Praise For Burt Rutan's Race to Space: The Magician of Mojave and His Flying Innovations…
"Burt will always be remembered as a visionary aircraft designer, his unique configurations a testament to his genius. However, a more subtle but undoubtedly key part of his success is his ability to make his unique visions resonate in those around him. If Burt's only contribution were ideas he couldn't communicate, he'd have executed on a couple and vanished into the background. His true genius is his capability to excite others, to make them believe in the unimaginable and to lead them on an unapologetic search for the unique. This book is sure to bring the reader along on that quest by detailing the unique concepts and the amazing stories behind them."

—Matt Stinemetze, Project Engineer SpaceShipOne, Project Manager SpaceShipTwo Program

"Dan Linehan has produced an amazing narrative clearly explaining the technical evolution of how Burt Rutan founded two small aerospace companies that eventually lead to the capture the 10 million dollar X-prize awarded to the first company to shoot a manned, privately-funded spacecraft into outerspace twice within two weeks. I know. I was the lead structural analyst for Burt Rutan's SpaceShipOne and witness to SpaceShipOne's construction, operation, and ultimate success. And now, the next generation SpaceShipTwo is designed to take passengers like you and me there. If you long to someday visit space yourself, Burt Rutan's Race to Space is a must read. It very accurately captures the early evolution of space travel that will someday be as common place as airline travel is today."

—Dan Kreigh, Senior Structural Engineer, Scaled Composites, and Inventor of the IFO
UNIVERSE TODAY
"...provides a chronicle of all the air and spacecraft that have soared off of Rutan's blueprints and into reality...this book is timely, enjoyable and acts as a wonderful window into the mind of the man that has revolutionized flight."
TRAVEL FOR AIRCRAFT
"This book is not only a superb reference regarding an incredible aeronautical engineer, as well as the story behind the winner of the Ansari X Prize, it is also describes the experiences and decisions of a business entrepreneur. I think that this last part is important since, like it or not, without money successful engineering designs languish latent — their potential unrealized. "
"Linehan gives Rutan the credit he is due as one of the architects of twenty-first century private space travel. As he did with his earlier book, SpaceShipOne: An Illustrated History, Linehan also shows himself to be an engaging writer who combines scientific know-how with behind-the-scenes reporting that makes Rutan's Race read like an adventure story."

—Paul G. Allen, co-winner of the Ansari X Prize

"Dan has done a fabulous job of describing the incredible journey of one of the most accomplished aircraft designers of all time, Burt Rutan. If you weren't impressed by Burt before now, you certainly will be after reading this absolutely fascinating story of the incredible journey of Burt Rutan—from a young model airplane champion to legendary aircraft designer among the ranks of Douglas, Heinemann, Lockheed, and Kelly Johnson. I personally read it from one end to the other and loved it. This is a book you will read from cover to cover without being able to put it down. What a fascinating story of the aircraft designer of our time, Burt Rutan. His accomplishments as an aircraft designer and builder revolutionized the way airplanes are made.Way to go Dan Linehan for creating a mesmerizing collection of stories!"

—Robert "Hoot" Gibson, Space Shuttle Commander
or
Not Currently Available for Direct Purchase