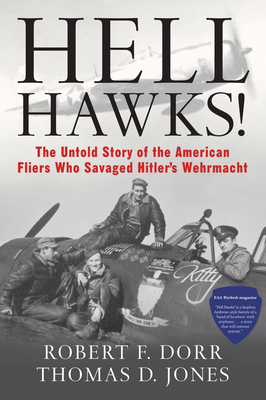 Hell Hawks! (Paperback)
The Untold Story of the American Fliers Who Savaged Hitler's Wehrmacht
Zenith Press, 9780760338254, 352pp.
Publication Date: May 1, 2010
Other Editions of This Title:
Hardcover (6/15/2008)
* Individual store prices may vary.
Description
Hell Hawks sets a new standard for histories of the tactical anti-war in Europe. Veteran authors Bob Dorr and Tom Jones combine masterfully crafted veteran interviews with the broader picture of the air war fought by the Thunderbolt men. You gain a new appreciation of just how tough their deadly task was, and the courage needed to fly close air support against the Nazi fighters and flak. This outstanding book raises the bar on aviation history as it brings alive the true story of an aerial band of brothers." - Colonel Walter J. Boyne, National Aviation Hall of Famer, former director of the National Air & Space Museum, and best-selling author
Hell Hawks!is the story of the band of young American fighter pilots, and their gritty, close-quarters fight against Hitlers vaunted military. The "Hell Hawks" were the men and machines of the 365th Fighter Group.

Beginning just prior to D-Day, June 6, 1944, the groups young pilots (most were barely twenty years old and fresh from flight training in the United States) flew in close support of Eisenhowers ground forces as they advanced across France and into Germany. They flew the rugged, heavily armed P-47 Thunderbolt, aka the Jug. Living in tents amid the cold mud of their front-line airfields, the 365ths daily routine had much in common with that of the G.I.s they supported.

Their war only stopped with the Nazi surrender on May 8, 1945. During their year in combat, the Hell Hawks paid a heavy price to win the victory. Sixty-nine pilots and airmen died in the fight across the continent. The Groups 1,241 combat missions -- the daily confrontation of sudden, violent death -- forged bonds between these men that remain strong sixty years later. This book will tell their story, the story of the Hell Hawks.
About the Author
ROBERT F. DORR an air force veteran and a retired senior Foreign Service officer. He is the author of 70 books and thousands of magazine articles about the air force, aviation, and military affairs. He writes a weekly opinion column for Air Force Times, monthly columns for Combat Aircraft, Air International, and Aerospace America magazines, and a quarterly column for Air Power History, which he helped create. He is the author of Mission to Berlin, Mission to Tokyo, Hell Hawks!, Fighting Hitler's Jets, and Air Force One (all with Zenith Press).
Thomas D. Jones is a veteran astronaut and consultant. He holds a Ph.D. in planetary sciences, flew on four space shuttle missions, and piloted B-52D bombers before joining NASA. He has written for Air and Space Smithsonian, Aerospace America, and Popular Mechanics. His autobiography is Sky Walking: An Astronaut\u2019s Memoir. Jones lives in the Virginia suburbs of Washington, D.C.
or
Not Currently Available for Direct Purchase