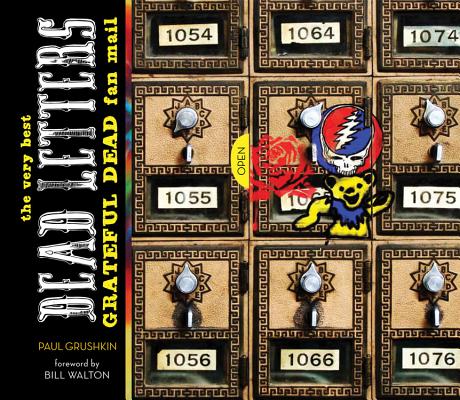 Dead Letters: The Very Best Grateful Dead Fan Mail (Hardcover)
The Very Best Grateful Dead Fan Mail
Voyageur Press (MN), 9780760338544, 208pp.
Publication Date: October 22, 2011
* Individual store prices may vary.
or
Not Currently Available for Direct Purchase
Description
Dead Letters is the fully authorized portrayal of the Grateful Dead according to the world's most devoted fan base: Deadheads. Beginning in their earliest days, the Grateful Dead saved tens of thousands of letters sent to them by Deadheads reflecting on the spectacular concerts they'd attended and requesting tickets. These letters are inspirational and hugely insightful, but more significantly, the envelopes in which they arrived are brilliantly illustrated and unique within the world of rock. This book collects hundreds of those envelopes, as well as a selection of letters, all presented in thematic chapters. Also included for further historical context are rare historical photos and special reminiscences creating a trip, as it were, down memory lane.
About the Author
Paul Grushkin is the author of The Art of Rock, the standard work in the field of rock posters, and its bestselling followup, Art of Modern Rock. He is the author of several other books in the field of rock history and memorabilia, including Grateful Dead: The Official Book of the Deadheads and Treasures of the Hard Rock Cafe. A former archivist for promoter Bill Graham, he has more than two decades' experience at the forefront of rock merchandising, having mounted campaigns for top acts and created his own Phantom clothing line.Paul Grushkin is one of America's top rock & roll historian. For over twenty five years Grushkin has been at the forefront of rock merchandising. As VP/Sales and Marketing for Signatures Network, Sony Signatures, and Winterland Productions, he designed and led the retail merchandising campaigns for nearly every top rock. pop, and country music band, including the Beatles, Bruce Springsteen, Garth Brooks, Ozzy Osbourne, the Doors, Led Zeppelin, New Kids on the Block, John Lennon, Madonna, N?Sync, Backstreet Boys, and more than two hundred others.Grushkin is the author and co-author of four best-selling rock & roll histories, collectively selling over one million copies. Grushkin's Grateful Dead: The Official Book of the Deadheads (1983) is the most successful book about the Grateful Dead to date, and one of the longest in-print rock music histories (24 years, 16 U.S. printings). Grushkin's other books include Rockin' Down the Highway: The Cars and Stars that Made Rock Roll, Art of Modern Rock: The Poster Explosion, and Grateful Dead Book of the Dead Heads. A graduate of Stanford University (1974), Grushkin now resides with his family in Northern California. His web site can be found at http: //www.paulgrushkin.com/.
Praise For Dead Letters: The Very Best Grateful Dead Fan Mail…
"Each of the unique pieces of art is displayed fully formed and is intriguing not only for its relationship to the band but also for the level of devotion that so many fans have held for so long to their favorite cause." - Vintage Guitar
"5 out of 5 stars
…a sprawling and beautiful tome that more than adequately documents the phenomenon that the GDTS inadvertently created and is fascinating and engaging as a skim-through coffee-table book or as a full-on read. And while the artwork is clearly the focal point of the book, Grushkin's accompanying text provides an informative and enjoyable history of the Grateful Dead and insight into the behind-the-scenes activity that helped the legacy endure." -
www.mediamikes.com
It's a fascinating read and one that captures the spirit of the Deadheads in a new light. It's not all images, though those are the most appealing, it also includes the stories behind the sales team and band from their perspective. - Creative Loafing
Advertisement