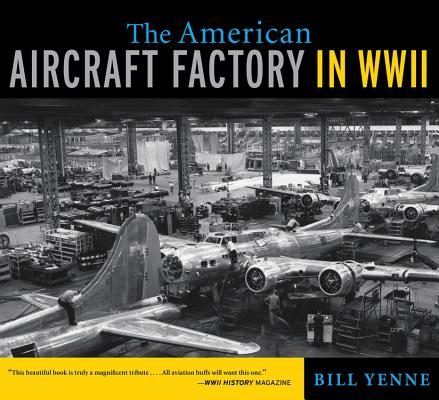 The American Aircraft Factory in World War II (Paperback)
Zenith Press, 9780760339138, 192pp.
Publication Date: September 10, 2010
* Individual store prices may vary.
Description
Few industrial phenomena have been as dramatic as the United States' mid-20th-century shift from peacetime to wartime production. The American Aircraft Factory in World War II documents the production of legendary warbirds by companies like Boeing, North American, Curtiss, Consolidated, Douglas, Grumman, and Lockheed. It was a production unmatched by any other country and a crucial part of why the allies won the war.

Author Bill Yenne considers the prewar governmental acts that got the plants rolling, as well as the gender shift that occurred as women entered the work force like never before. He also describes the construction of megafactories like Willow Run, factory design considerations, and the postwar conversion back to peacetime production. Illustrated with 175 period photographs--including 50 rare color photos never before seen in print.
About the Author
Bill Yenne is the author of more than three dozen nonfiction books on historical topics. His books on aviation and military history have included Area 51 Black Jets--which T. D. Barmes, formerly with NASA High Range and Area 51 Special Projects, described as "not a book that the reader will lay down and not finish. It holds one's interest from front to back." Yenne has also contributed to encyclopedias of World War I and World War II and has been featured in several documentaries which have aired on the History Channel, the National Geographic Channel, the Smithsonian Channel, and ARD German Television. The Wall Street Journal notes that Yenne writes "with a cinematic vividness." Yenne has also authored ten novels and has penned several books on beer and brewing history, including Beer: The Ultimate World Tour.
Praise For The American Aircraft Factory in World War II…
"The American Aircraft Factory in World War II by Bill Yenne is truly magnificent. When I first had the book in my hand I thought "coffee table book". After reading the book and looking at the pictures it is so much more. It is a wonderful tribute to the men and women who built the airplanes. It is an excellent history of the aircraft industry in the Unites States….The photographs in the book are amazing. I have never seen so many high quality photographs of this era in one collection. Without the pictures the book is a wonderful history of the aircraft industry. With the pictures it is transformed into a work of art. I highly recommend the book for all aviation and World War II buffs. It would be an excellent addition to community and public school libraries as well. This is a masterpiece that will stand the test of time."

—Kepler's Military History Book Review

"In the American Aircraft Factory in World War II, Yenne pays fitting tribute to the cultural, military and social influence that American planes had on the American way of life during the Second World War. Readers will find it difficult not to become fans of military aviation history and of the men and women who gave us that history on the factory floors of America and in the skies over Europe and the Pacific Rim."

—BiblioBuffet
or
Not Currently Available for Direct Purchase