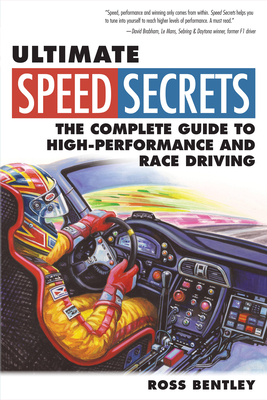 Ultimate Speed Secrets (Paperback)
The Complete Guide to High-Performance and Race Driving
Motorbooks, 9780760340509, 336pp.
Publication Date: August 25, 2011
* Individual store prices may vary.
Description
Ultimate Speed Secrets is the drivers' guide to going faster! Professional race instructor Ross Bentley has raced everything from Indy cars to world sports cars and has the experience to make any racer a more complete driver. With detailed drills and comprehensive instructions, Bentley covers everything you need to know: choosing lines; adapting to different cars, tracks, and racing conditions; setting up controls; and understanding car adjustments and mental preparation. Whether you are racing an Indy car or simply interested in becoming a more complete driver on the street, Ultimate Speed Secrets will give you the information you need to succeed!
About the Author
Ross Bentley is the author of the popular Motorbooks Speed Secrets series. He is a racing coach, race car driver, author, and speaker. Bentley grew up in a racing family in Vancouver, British Columbia. He raced in the CART Indy Car series in the 1990s before moving on to endurance racing, where he won the 1998 GT3 United States Road Racing Championship and the 2003 SRPII Class Rolex 24 Hours of Daytona. Bentley currently resides in Redmond, Washington.
Praise For Ultimate Speed Secrets: The Complete Guide to High-Performance and Race Driving…
"Ross Bentley's Speed Secrets series of coaching books are a favorite around our office: they really help the driver to grasp what it takes to win. From cornering to the business of racing, Ross has covered it all. Ultimate Speed Secrets is a condensed version of all of his previous books and serves as a good refresher for those of us who haven't read his back catalog in years. Put it on your shelf, or in your gear bag for those long nights before the big race." – Grassroots Motorsports
"Virtually everyone who races wants to improve their technique and lap times. Ross Bentley is one of the best-known racing instructors who has been able to put to words what he teaches in person, down to choosing lines and adapting to different cars and trucks. This is the latest version of his previous work with completely new text, photos and diagrams. Well worth the read to get your needed speed!" - Vintage Motorsport

"Author Ross Bentley dishes on what every professional track driver knows about driving that you probably don't. He's no amateur; Bentley won the United States Road Racing Championship while driving for BMW-backed racing team, and the 2003 24 Hours of Daytona. Even if you're not venturing onto a track, knowing how to clip an apex should help on freeway ramps." - The Virginian-Pilot

"This new book presents more racing knowledge in an easy to comprehend, adapt and use than any previous ones over decades of racing. It is not a quick read but an excellent one with much to ponder, reflect on and put into practice. After each track session you'll probably return to it to further hone your skills and fitness both mental and physical. It is complete coaching for the vintage or amateur and it also has many items for the serious aspiring oval or road racer. This means team building, team dynamics, sponsors and sponsorships and much more. It has much to offer the vintage racer no matter the type of car or the intensity of the competition. Buy it, read it, practice the info and you'll be a safer, quicker and more satisfied race car driver." - Vintage Oval Racing
"If you are a track-day driver or a regular racer, I guaranteed the $20 or less you pay for his book will be the most cost-effective way to lower your lap time you ever invested." - Keith Martin's Sports Car Market