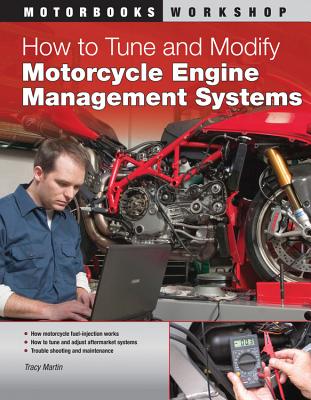 How to Tune and Modify Motorcycle Engine Management Systems (Motorbooks Workshop) (Paperback)
Motorbooks, 9780760340738, 192pp.
Publication Date: April 29, 2012
* Individual store prices may vary.
Description
From electronic ignition to electronic fuel injection, slipper clutches to traction control, today's motorcycles are made up of much more than an engine, frame, and two wheels. And, just as the bikes themselves have changed, so have the tools with which we tune them. How to Tune and Modify Motorcycle Engine Management Systems addresses all of a modern motorcycle's engine-control systems and tells you how to get the most out of today's bikes. Topics covered include:
How fuel injection works
Aftermarket fuel injection systems
Open-loop and closed-loop EFI systems
Fuel injection products and services
Tuning and troubleshooting
Getting more power from your motorcycle engine
Diagnostic tools
Electronic throttle control (ETC)
Knock control systems
Modern fuels
Interactive computer-controlled exhaust systems
About the Author
Tracy Martin (tracyamartin.com) is the author of five Motorbooks Workshop series books, including, How To Use Automotive Diagnostic Scanners, How To Diagnose and Repair Automotive Electrical Systems, Motorcycle Electrical Systems Troubleshooting and Repair, How to Tune and Modify Motorcycle Engine Management Systems, and How to Troubleshoot, Repair and Modify Motorcycle Electrical Systems. He also co-authored the Motorcycling Safety Foundation's Guide to Motorcycling Excellence.

Tracy is a regular contributor to several national magazines, including, Motorcycle Consumer News, RoadBike, American Iron Dealer News, and others. Tracy's automotive carrier begin as a high-school auto shop teacher and he has been a consultant for Sun Electric, Nissan of North American, Snap-On Tools, and other automotive aftermarket companies. When he's not writing he teaches advanced motorcycle skills and plays the banjo.
Praise For How to Tune and Modify Motorcycle Engine Management Systems (Motorbooks Workshop)…
"From electronic ignition to electronic fuel injection or from slipper clutches to traction control, today's motorcyles are made up of much more than the engine, frame, and two wheels. Thankfully, we have the tools to tackle this technology thanks to a new book How to Tune & Modify Motorcycle Engine Management Systems. It covers factory and aftermarket fuel injection systems, open and closed loop EFI, tuning, and more." - IronWorks

"It's perfect for the home mechanic or tuner, and you don't need a degree in electronics to benefit from it." - Motorcyclist
"Longtime RoadBike readers will recognize Tracy Martin as one of our go-to tech experts. His latest book will teach you everything about EFI." -RoadBike
"From all you riders out there who picture themselves as DYIers or are a wannabee DYIer, here's a book that gives you the lowdown on how to tune the electronic ignition and electronic fuel injection systems on today's motorcycles." - IronWorks