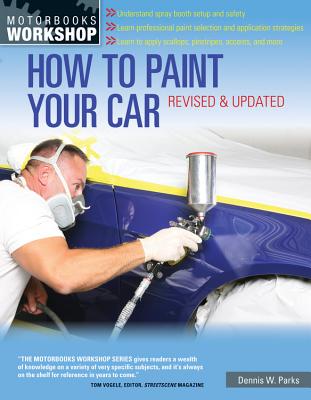 How to Paint Your Car (Paperback)
Revised & Updated (Motorbooks Workshop)
Motorbooks, 9780760343883, 192pp.
Publication Date: June 17, 2013
Other Editions of This Title:
Paperback (10/12/2003)
* Individual store prices may vary.
Description
How to Paint Your Car reveals the techniques, tricks, and technology behind automotive painting through 400 color photos, clear captions, detailed text, and step-by-step how-to sequences. You'll learn the latest information about paint chemistry, waterborne paints, spray guns, body fillers, surface prep, site prep, as well as respirators and other safety gear that every automotive painter must know.
With step-by-step detail, you'll learn how to properly prepare your car for paint work, including minor bodywork, surface preparation, rust removal, masking, priming and final coating. How to Paint Your Car also includes information about custom touches and effects as well as how to care for your paint after application, including information on buffing compounds, waxes, and other care products. Everything you need to know to feel comfortable and confident in undertaking your own paint project, whether a touch-up job or a complete respray, is covered in How to Paint Your Car.
About the Author
Dennis W. Parks has written several best-selling how-to books for the Motorbooks Workshop series, including How to Paint Your Car, How to Build a Cheap Hot Rod, Hot Rod Body and Chassis Builder's Guide, and The Complete Guide to Auto Body Repair. Parks' personal projects currently include a complete buildup of a 1955 Chevy pickup truck. He lives in Cedar Hill, Missouri.