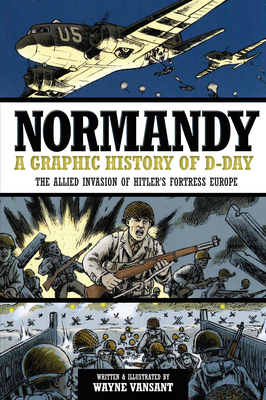 Normandy (Paperback)
A Graphic History of D-Day, The Allied Invasion of Hitler's Fortress Europe (Zenith Graphic Histories)
Zenith Press, 9780760343920, 104pp.
Publication Date: September 15, 2012
* Individual store prices may vary.
Description
Normandy depicts the planning and execution of Operation Overlord in 96 full-color pages. The initial paratrooper assault is shown, as well as the storming of the five D-Day beaches: Utah, Omaha, Gold, Juno, and Sword. But the story does not end there. Once the Allies got ashore, they had to stay ashore. The Germans made every effort to push them back into the sea. This book depicts the such key events in the Allied liberation of Europe as:
1. Construction of the Mulberry Harbors, two giant artificial harbors built in England and floated across the English Channel so that troops, vehicles, and supplies could be offloaded across the invasion beaches.
2. The Capture of Cherbourg, the nearest French port, against a labyrinth of Gennan pillboxes.
3. The American fight through the heavy bocage (hedgerow country) to take the vital town of Saint-Lô.
4. The British-Canadian struggle for the city of Caen against the "Hitler Youth Division," made up of 23,000 seventeen- and eighteen-year-old Nazi fanatics.
5. The breakout of General Patton's Third Army and the desperate US 30th Division's defense of Mortaine.
6. The Falaise Pocket, known as the "Killing Ground, " where the remnants of two German armies were trapped and bombed and shelled into submission. The slaughter was so great that 5,000 Germans were buried in one mass grave.
7. The Liberation of Paris, led by the 2nd Free French Armored Division, which had been fighting for four long years with this goal in mind.
About the Author
Writer and artist Wayne Vansant was the primary artist for Marvel's The 'Nam for more than five years. Since then, he has written and illustrated many historically accurate graphic histories, such as The Hammer and the Anvil; The Vietnam War: A Graphic History; Normandy: A Graphic History of D-Day, The Allied Invasion of Hitler's Fortress Europe (Zenith Press, 2012); Gettysburg: The Graphic History of America's Most Famous Battle and the Turning Point of the Civil War (Zenith Press, 2013); Grant vs. Lee: The Graphic History of the Civil War's Greatest Rivals During the Last Year of the War (Zenith Press, 2013); Bombing Nazi Germany: The Graphic History of the Allied Air Campaign That Defeated Hitler in World War II (Zenith Press, 2013); and The Red Baron: The Graphic History of Richthofen's Flying Circus and the Air War in WWI (Zenith Press, 2014). He is currently working on The Battle of the Bulge: A Graphic History of Allied Victory in the Ardennes, 1944-1945 (Zenith Press, 2014) for the 70th anniversary of the battle in December 2014.
Praise For Normandy: A Graphic History of D-Day, The Allied Invasion of Hitler's Fortress Europe (Zenith Graphic Histories)…
"What a glorious book, vivid, accurate, utterly bewitching." �� Alex Kershaw, bestselling author of The Bedford Boys: One American Town's Ultimate D-Day Sacrifice
"Normandy: A Graphic History of D-Day; The Allied Invasion of Fortress Europe, adopts the comic-book, graphic-novel style of illustrated panels accompanied by a bit of text to tell the story of the June 6, 1944, invasion of France through the August 25 entry into Paris. Unlike the mostly-for-entertainment comics of my childhood, this book gives an accurate overview of the events it relates and provides a surprising amount of detail, given its limited-text, just-over-100-pages format. It isn't just for younger readers, either, although it would serve as a great introduction to the Normandy campaign for pre-teens and teens. Wayne Vansant found the right mix of text and illustration in creating this book. The short sentence structure imposed by the graphic novel format adds to the story, giving an enhanced sense of action and urgency. It's a good, short, informative read for adults and an excellent tool for introducing younger readers to the story of D-Day. Highly recommended." - ArmChairGeneral.com
"I am very pleased to have discovered a new history graphic novel series, beginning with Normandy: A Graphic History of D-Day: The Allied Invasion of Hitler's Fortress Europe which is both written and illustrated by Wayne Vansant. Other books will follow, on subjects including Gettysburg, Civil War Generals Grant and Lee, and the Bombing of Nazi Germany. The series is aimed at teen readers, but I find it's great for adults interested in experiencing history through the graphic novel medium. I recommend this book and the forthcoming books in the series to anyone who enjoys graphic novels and/or history, and for those older kids in your life who are having a hard time getting into history. We will definitely be using it for our homeschooling curriculum when my kids are a bit older." - WIRED.com Geek Dad