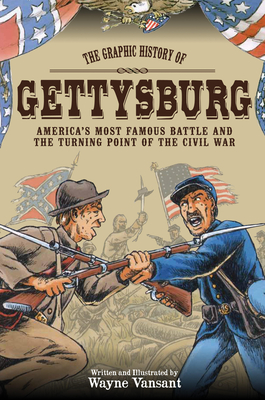 Gettysburg (Paperback)
The Graphic History of America's Most Famous Battle and the Turning Point of The Civil War (Zenith Graphic Histories)
Zenith Press, 9780760344064, 96pp.
Publication Date: April 15, 2013
Other Editions of This Title:
Hardcover (10/9/2015)
Library Binding (8/1/2015)
* Individual store prices may vary.
Description
The Battle of Gettysburg is a landmark event in United States history. Widely recognized as the Civil War's turning point, it accounted for the most casualties of any battle during the war and spelled the beginning of the end for the Confederacy. 
In this powerful graphic history, Wayne Vansant describes the history leading up to the Battle of Gettysburg, as well all of the major military events on July 1st, 2nd, and 3rd, including the famous fight for Little Round Top on the second day and the death march known as Pickett's Charge on the third and final day. He paints portraits of each army's leaders, such as Robert E. Lee, James Longstreet, George Meade, and the then little-known Joshua Chamberlain.
Vansant concludes a few months later at the dedication of the Soldier's National Cemetery in November, 1863, when Abraham Lincoln delivered one of the most iconic speeches of all time, the Gettysburg Address. Gettysburg delivers one of the hallmark events of American history in an exciting and innovative format.
"Wayne Vansant has authored a graphic account of the Battle of Gettysburg with rich illustrations and narrative that makes history come alive. This book will not only spark an interest in the terrible battle and sad aftermath, but will provide the reader with a good understanding of the men and armies memorialized at Gettysburg National Military Park today." - John Heiser, Historian, Gettysburg, PA
About the Author
Writer and artist Wayne Vansant was the primary artist for Marvel's The 'Nam for more than five years. Since then, he has written and illustrated many historically accurate graphic histories, such as The Hammer and the Anvil; The Vietnam War: A Graphic History; Normandy: A Graphic History of D-Day, The Allied Invasion of Hitler's Fortress Europe (Zenith Press, 2012); Gettysburg: The Graphic History of America's Most Famous Battle and the Turning Point of the Civil War (Zenith Press, 2013); Grant vs. Lee: The Graphic History of the Civil War's Greatest Rivals During the Last Year of the War (Zenith Press, 2013); Bombing Nazi Germany: The Graphic History of the Allied Air Campaign That Defeated Hitler in World War II (Zenith Press, 2013); and The Red Baron: The Graphic History of Richthofen's Flying Circus and the Air War in WWI (Zenith Press, 2014). He is currently working on The Battle of the Bulge: A Graphic History of Allied Victory in the Ardennes, 1944-1945 (Zenith Press, 2014) for the 70th anniversary of the battle in December 2014.
Praise For Gettysburg: The Graphic History of America's Most Famous Battle and the Turning Point of The Civil War (Zenith Graphic Histories)…
Gettysburg: The Graphic History is a brilliant achievement. Writer/artist Wayne Vansant is at the top of his game with his graphic history of the battle known as "the high water mark of the Confederacy." Rich in drama, accurately detailed, this is a benchmark addition to the historiography of the bloodiest battle in the American Civil War. A powerful and well-told story, it is an excellent, accessible visual account for a younger audience or those unfamiliar with the battle that inspired President Abraham Lincoln's greatest speech, the Gettysburg Address. - Dwight Jon Zimmerman, #1 New York Times bestselling co-author of Lincoln's Last Days

Vansant presents a military history of the battle of Gettysburg in comic-book style, beginning with Robert E. Lee's motivation for attacking Pennsylvania and concluding with Abraham Lincoln's reflections on the battle in his short memorial address. The artwork has a casual simplicity, with scratchy, brisk lines and muted tones. Almost no attempt is made to make moments melodramatic or spectacular. The severity of the depiction of bloodshed increases somewhat as the battles get more fraught, but the primary goal is not to show war as either glory or hell. Instead the focus is to give a visual impression of the physical scope of the battlefields and to put human faces to some of the division commanders. The first goal is effectively accomplished; the maps with the changing positions of the relative forces show the complexity of the ground and the increasing intensity as the battle progresses. The section about crossing an open mile to Cemetery Ridge works especially well. However, the capsule introductions to the various commanders are less elucidating. Each man is given a close-up drawing and a single biographical detail, but not usually something that would increase understanding of how he commanded. The many men who died under their commands are given even shorter shrift. The readable narrative breaks down the military actions and decisions leading up to and during the battle, but the accompanying visuals do little to either illuminate or re-create the actual experience or to humanize the participants. - School Library Journal

"Reminiscent of the Classics Illustrated comic books of yesteryear, comic artist Wayne Vansant has created a modern "classic" in his "The Graphic History of Gettysburg." With exquisite detail and well-researched history, the Georgia native gives us an eyewitness view of, arguably, the most important battle from the Civil War. From the very beginning to the bitter end and on to Lincoln's address at the National Cemetery dedication, his clear and powerful graphic rendition clears the smoke-filled air. - Florida Times Union
"This book will be of interest to anyone seeking a greater understanding of the Battle of Gettysburg and also serves as an excellent introduction for youngsters with its mix of historical text and graphic imagery. Vansant uses a scratchy ink line and sketchy style to convey action in an effective manner." - wwiitanks.com
"In short, Vansant did his homework. The Graphic History of Gettysburg is an excellent choice for introducing younger readers to the battle, with information presented in an exciting manner within a format they are more likely to accept. It is a worthwhile read for anyone wanting an overview of the crisis at the crossroads. And for old grognards like myself, it can remind us of why we got interested in history in the first place." - ArmchairGeneral.com
"The book provides a nice visual summary of the Battle of Gettysburg for almost any reader. The quality of the illustrations is quite good for a work of this type and price, and no slight is intended by describing the style as "top-quality comic book art on slick paper." You wouldn't expect to find fine art in nearly a hundred pages of color drawings for well under twenty dollars." - National Parks Traveler
"Overall I enjoy Graphic novels because kids like Graphic novel. I like books that get kids reading and a book like this one with actual facts in it is even better. I enjoyed reading the book and I know teens will too." - Outnumbered 3 to 1 Blog

"Vansant makes you feel as if you are walking alongside of leaders, both little known and well known. He explores little-known Joshua Chamberlain, and famous icons like Robert E. Lee. He also introduces the reader to James Longstreet and George Meade. If all you know about Gettysburg is Abraham Lincoln's Gettysburg Address, it's time to learn what the turning point of the Civil War was all about. The book is paperback, and presents 96 pages of 400 colorful cartoon-like illustrations of The Battle of Gettysburg." - Examiner.com

"When the Gettysburg graphic novel arrived, Mister Man picked it up and walked away.  He promised my mom that they were going to read it together, but the next day he apologized because he'd read the whole thing already.  He loved it, and he continues to pick it up to read through it again because it appeals to him. Finally I had my turn to read it, and it was fascinating.  The graphic novel follows the three days of the Battle of Gettysburg, including the lead up to the long battle and finishes with the dedication of the soldier's national cemetery at Gettysburg and the text of Lincoln's famous address.  The detail included in the graphic novel is far more than I ever learned about the Battle of Gettysburg – including in my AP history classes.  It is a lot to absorb, and I probably need to read it a few more times to fully follow who was where when and why, but that didn't stop me from getting the majority of the information in it." - 5MinutesForMom.com
or
Not Currently Available for Direct Purchase