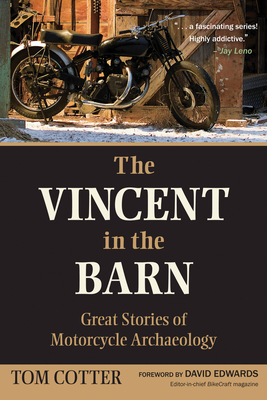 The Vincent in the Barn (Paperback)
Great Stories of Motorcycle Archaeology
Motorbooks, 9780760344132, 256pp.
Publication Date: June 29, 2013
Other Editions of This Title:
Hardcover (9/1/2009)
* Individual store prices may vary.
Description
It's every motorcyclist's dream. A friend or acquaintance says, "You know, there's an old bike that's been sitting in this garage for years." The hunt is on. And rather than the usual worthless Hondazukimaha pile of hopeless oxidation, at the back of that barn you find a genuine classic, the motorcycle collector's dream.
The Vincent in the Barn tells forty such stories--tales of motorcycle hunting dreams come true. From Ducatis in basements to Vincents abandoned in sheds, Harleys in barns to Brit bikes moldering behind urban garages, these are the stories that fuel every motorcyclist's fantasies. The only difference? They're true.
See Tom Cotter, author of Motorbooks "In the Barn" series, interviewed by Jay Leno on JayLenosGarage.com: http://www.jaylenosgarage.com/video/jays-book-club-the-hemi-in-the-barn/1237422/
About the Author
Tom Cotter had long been involved in nearly every facet of the automotive and racing industries before writing his first book. From mechanic and auto salesman to heading the public relations department at Charlotte Motor Speedway, Cotter formed his own racing and automotive PR and marketing agency, Cotter Group. The agency represented some of the largest clients in NASCAR, IndyCar/CART, drag racing, and road racing. He has written biographies of the legendary Holman-Moody race team, Tommy Ivo and Dean Jeffries, but is best known for his series of barn find books, such as Cobra in the Barn, 50 Shades of Rust and Barn Find Road Trip. Cotter appears in the Barn Find Hunter video series, which is distributed by Hagerty Insurance. He teaches public relations at Belmont Abbey College, sits on the advisory board of McPherson College's Auto Restoration program, and is a member of the Road Racing Driver's Club (RRDC.) He lives in Davidson, North Carolina.
Tom Cotter writes regularly for Road & Track and other magazines and has a deep-seated love for motorcycle and automotive rescue. He has written two books on the lure of collector vehicle archaeology, The Cobra in the Barn, winner of a 2006 International Automotive Media Award, and its follow-up, The Hemi in the Barn. Cotter most recently authored the biography of car builder extraordinaire Dean Jeffries.Tom has been in and around cars and bike all of his life. He built one of the most successful PR agencies in motorsports, with a client list ranging from NASCAR to the SPEED Channel. Cotter lives in Davidson, North Carolina. 
Praise For The Vincent in the Barn: Great Stories of Motorcycle Archaeology…
"The Vincent in the Barn is a worthwhile and enjoyable read for anyone who has an interest in the old, the rare, the odd, or even just motorcycle history in general. The stand-alone nature of its stories—some of which are laugh out loud funny— make it an easy book to pick up and put down at random, even if one should really give these tales some undivided attention." – Friction Zone 

"Here's a rough piece of fiction from a Bikernet reader. Although his prose are scrambled his story comes across. It's a classic, and if you love stories of found antique motorcycles, you need to pick up this new book from Motorbooks. It's full of true stories of classic vintage motorcycle discoveries. Some I know of personally, because I know the current owners. If any book causes you to search all the barns in your neighborhood, this is it."— BikerNet.com 

"I haven't completely finished the book yet but I can tell you for sure that if you love stories like this you'll love this book. I highly recommend it." - MyBikeForums.com 
 "The Vincent in the Barn" is a delight. Most of the stories are only a few pages long and read like high octane archaeological thrillers…kind of like "Indiana Jones meets the World's Fastest Indian." Some of the writing is priceless. "The Vincent in the Barn" truly does contain "Great Stories of Motorcycle Archaeology." It rates four out of five lug nuts and is available at SPEEDtv.com, Keyword "Books." I'm really starting to miss my 1972 650cc Yamaha I rode in college." - SpeedTV.com 
"You never know what you might find in a barn, back of a garage or under a dusty tarp. Following his successful "The Cobra in the Barn" and "The Hemi in the Barn", author tom cotter continues his search for motorized treasure with "The Vincent in the Barn". Cotter's personal experiences are interspersed with similar stories from other noted authors." -CycleWorld
"…a thoroughly fun romp through a corner of the hobby most of us wish we inhabited – and swear we someday will." – Motorcycle Classics
"From Ducati's in basements to Vincent's in sheds, here are dozens of stories and accompanying images of the dream coming true! Brilliant!" - Classic Bike Guide (UK) 
"It's no mystery that there are those among us that relish the hunt as much, if not more, than the actual ownership of rare and antique motorcycles.  Therefore, if you're a regular reader of this publication, you'll likely enjoy THE VINCENT IN THE BARN—GREAT STORIES OF MOTORCYCLE ARCHAEOLOGY by Tom Cotter.  The true tales here cover everything from amazing finds across the street to the other side of the globe.  Embedded in the stories one can glean tips and techniques used by professional vehicle hunters.  Also, one realizes that sometimes just plain dumb luck or an offhand rumor will land something very cool in the garage.I found the book an entertaining and educational read." - The Antique Motorcycle
or
Not Currently Available for Direct Purchase