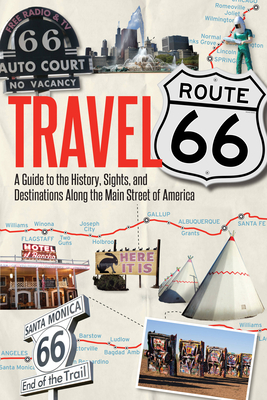 Travel Route 66
A Guide to the History, Sights, and Destinations Along the Main Street of America
Paperback

* Individual store prices may vary.
Description
Long one of America's most cherished byways, Route 66 remains a popular tourist attraction and travel route for thousands of travelers every year. While stretches of the once-glorious road have been paved over or bypassed by the interstates, the journey from Chicago to Santa Monica along the path of the "double six" remains chock-full of unique roadside attractions, spectacular natural landscapes, and fascinating historical landmarks. Communities throughout each of the eight states touched by the "Main Street of America"—Illinois, Missouri, Kansas, Oklahoma, Texas, New Mexico, Arizona, and California—have embraced this vital piece of American history and offer a vast array of opportunities to experience the grandeur as well as the lost innocence of the glory days of Route 66.
In Travel Route 66, Route 66 expert and enthusiast Jim Hinckley provides detailed descriptions and itineraries that allow travelers of all ages and inclinations to explore the myriad wonders to be found along the highway's 2,500 miles. In addition to specific recommendations for places to visit, eat, and spend the night, Hinckley presents history for the highway and its attractions and suggests detours and daytrips off the beaten path, all while providing a vivid picture of the road that has long captured the imaginations of travelers from throughout the world. Illustrated with a wealth of color photos and vintage memorabilia, Travel Route 66 is a practical and entertaining guide to the America's Mother Road.
Praise For Travel Route 66: A Guide to the History, Sights, and Destinations Along the Main Street of America…
"Middle America and London are travel destinations as different as any two can be, but these guides are equal in their enthusiastic coverage." ��Travel Roundup: Spring Travel Guides, 2014, Booklist
Voyageur Press, 9780760344309, 240pp.
Publication Date: March 15, 2014
About the Author
In his childhood, Jim Hinckley dreamed of being an author. After numerous detours into truck driving, mining, ranching, and a variety of other endeavors, he turned to writing a weekly column on automotive history for his local newspaper, the Kingman Daily Miner, in his adopted hometown of Kingman, Arizona.
From that initial endeavor more than twenty years ago, Hinckley has written extensively on his two primary passions: automotive history and travel. He is the author of Ghost Towns of Route 66 and Backroads of Arizona and a regular contributor to Route 66, American Road, Hemmings Classic Car, and Old Cars Weekly, and he was an associate editor at Cars & Parts. Book reviews and original features on automotive history and travel can be found on his blog, route66chronicles.blogspot.com and on his popular podcast, Jim Hinckley's America & Route 66 Adventures.