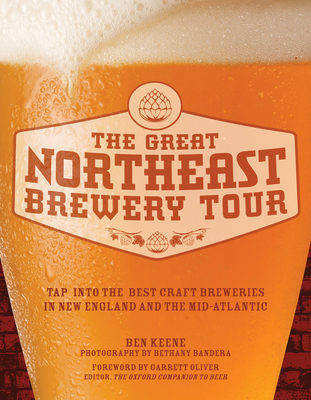 The Great Northeast Brewery Tour (Paperback)
Tap Into the Best Craft Breweries in New England and the Mid-Atlantic
Voyageur Press (MN), 9780760344484, 240pp.
Publication Date: January 15, 2014
* Individual store prices may vary.
Description
As craft brewing becomes increasingly inventive, with new beers demonstrating remarkable complexity, one region of the United States is particularly notable for its fascinating brewing scene: the Northeast. New England and the Mid-Atlantic boast some of America's most interesting craft breweries--there, beer lovers can discover exceptional brews, lively taprooms, spectacular views, and many other qualities that make the Northeast a must-visit region for anyone interested in craft brewing. In The Great Northeast Brewery Tour, beer expert Ben Keene introduces readers to sixty two of the most incredible breweries in Maine, New Hampshire, Vermont, Massachusetts, Connecticut, Rhode Island, New York, New Jersey, Pennsylvania, Maryland, Delaware, and Washington, D.C. Breweries like Allagash Brewing in Portland, Maine, and Smuttynose Brewing Company in Portsmouth, New Hampshire, allow visitors to tour the facilities, offering an inside look at how great beers are created. Places such as Brewery Ommegang in Cooperstown, New York, where visitors can try delicious Belgian food to accompany Belgian-style ales, and Harpoon Brewery in Boston are surrounded by stunning landscapes. Each brewery discussed is unique and special, much like the region's brewing heritage. Brewery profiles include interesting facts about each brewery and its history, along with useful practical information like directions, nearby accommodations, and local dining options that highlight craft beer. Spectacular full-color photography accompanies each profile, and sidebars throughout the text provide supplementary information on tasting methods, beer styles, and more. The Great Northeast Brewery Tour is an ideal resource for anyone interested in beer, whether you're planning a trip across the Northeast or simply curious to learn more about the region's innovative beer scene.
About the Author
Ben Keene is a beer expert who has written for DRAFT, Beer Connoisseur, All About Beer, Time Out New York, the San Francisco Chronicle, and many other publications. He contributed to The Oxford Companion to Beer and is the author of The Great Northeast Brewery Tour, The Homebrew Journal, and Best Hikes Near New York City. He is currently the managing editor for Beer Advocate, and he blogs about beer and travel at www.whereandback.blogspot.com.Bethany Bandera's photography has appeared in New York magazine, the New York Times, and a variety of other newspapers and magazines. www.bethanybandera.comBen Keene (Cambridge, MA) is a beer expert who has written for DRAFT, the Beer Connoisseur, All About Beer, Time Out New York, the San Francisco Chronicle, and many other publications. He contributed to The Oxford Companion to Beer and blogs about beer and travel at whereandback.blogspot.com. His first book was Best Hikes Near New York City, released in 2011 by Globe Pequot Press.twitter.com/WhereandBackÿBethany Bandera's photography has appeared in New York magazine, the New York Times, and a variety of other newspapers and magazines.www.bethanybandera.co
Praise For The Great Northeast Brewery Tour: Tap Into the Best Craft Breweries in New England and the Mid-Atlantic…
"All in all, it's a fantastic visual record of the craft beer scene in this region, and for that matter, the country, at this very moment." - Digboston.com
"This book happens to be one of the most appealing travel guides I've seen in years. It's readable, nicely designed, well organized and gives you exactly what you need to know about each of the breweries." - Limite Magazine
"Ready to travel the beer route from D.C. to Maine? Every town seems to have a new local brewery and Keene leads the way with his fun book. Buy a copy, fill up your gas tank, and hit the roadâ??I plan to." - Jimmy Carbone, host of Beer Sessions Radio on the Heritage Radio Network
"Part field guide, part local history, and part tasting notes, The Great Northeast Brewery Tour is smartly laid out for ease of access to valuable information. Keene has done his homework beyond the fun part (tasting the beers!) to give us all a Northeast beer lover's bucket list." - Evan Mallett, chef and owner of Black Trumpet Bistro
"Keene has shown in exhaustive and accessible detail the diversity of breweries and beers in the great Northeast. His book will stand as a definitive guide for years to come." - Tom Acitelli, author of The Audacity of Hops: The History of America's Craft Beer Revolution
"Keene has shown in exhaustive and accessible detail the diversity of breweries and beers in the great Northeast. His book will stand as a definitive guide for years to come." - Tom Acitelli, author of The Audacity of Hops: The History of America's Craft Beer Revolution
"Armed with a cast-iron liver, insightful eye, and a knack for turning out terrific tales, Keene takes readers on a thirst-provoking pilgrimage to the best and brightest new breweries on the East Coast." - Joshua M. Bernstein, author of Brewed Awakening and The Complete Beer Course