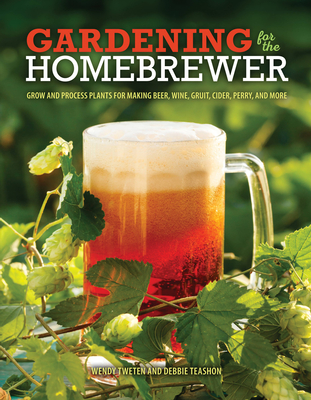 Gardening for the Homebrewer (Paperback)
Grow and Process Plants for Making Beer, Wine, Gruit, Cider, Perry, and More
Voyageur Press, 9780760345634, 208pp.
Publication Date: September 15, 2015
* Individual store prices may vary.
Description
Forget farm to table - go from garden to glass!
There's no feeling quite like cooking with home-grown carrots or grabbing a fresh handful of cilantro from your own yard. Well, unless you're growing fruits, vegetables, or grains for brewing that is. Gardening for the Homebrewer is an introduction to the wide variety of plants that you can use for fermentations or infusions. Learn how to tell if your yard is a perfect site for barley or whether it's better suited to a fragrant collection of herbs. Learn how to grow, dry, and store fresh hops. Or go off the beaten path and grow everything you need for your first gruit, cider, perry, or fruit wine. Have just a balcony or a windowsill? No problem! A variety of plant recommendations will suit gardeners of all types, even ones with limited space.
About the Author
Wendy Tweten is an award-winning writer and speaker who lives and gardens (and occasionally imbibes) on the Kitsap Peninsula in the Puget Sound.Along with her alter-ego, Miss Snippy, she contributes to a number of national and regional publications and websites. She is a regular columnist for the Kitsap News Group family of publications, and her work as been featured in Organic Gardening, Northwest Garden News, Master Gardener magazine, and Home by Design among others. She has won four Garden Writers' Association silver awards and two gold awards for her writing. Wendy's philosophy is simple: Design, color theory, and impressing the neighbors aside, the true function of a garden is to entertain the gardener.Debbie Teashon is a freelance garden writer, author, and award-winning photographer based on the Kitsap Peninsula in Washington. She has gardened most of her adult life and written about it for over two decades and her photography career spans four decades. Debbie's articles and photographs have appeared in magazines such as Fine Gardening, Master Gardeners, West Sound Home and Garden, Master Gardeners, and The Oregonian among others. As a plantswoman, she spends her time gardening, taking classes or researching plants for articles and the online plant database she maintains on Rainy Side Gardeners (www.rainyside.com), a website to help gardeners in the Pacific Northwest.
Praise For Gardening for the Homebrewer: Grow and Process Plants for Making Beer, Wine, Gruit, Cider, Perry, and More…
"Gardening for the Homebrewer is a useful hands- on guide and I like how it includes so many little tidbits of information. Yes, there are lots of books and advice on gardening, but this book includes helpful tips on things not often covered in other gardening books, like proper cleaning of your freshly harvested food, knowing the right time to harvest, selecting a potting container, sorting and eliminating food items not fit for consumption, and so on. The book also contains its share of humor, which is not something found in the typical book on this subject." - Great Beer Now
"A perfect how-to gift for the potential home-brewer, there is an informative chapter on growing hops, malt and barley for "big beer ingredients." Beer, however, "can be so much more," including gruit derived from combinations of various common herbs (yarrow, rosemary, horehound, and the like)." - The Texas Gardener's Seeds
"Gardening for the Homebrewer: Grow and Process Plants for Making Beer, Wine, Gruit, Cider, Perry and More is a complete guide to getting started. The authors give down-to-earth advice on the tools and materials gardeners need to get going, including which plants you'll need and how to grow the most productive garden." - Fine Gardening: The Vegetable Gardener
"Gardening for the Homebrewer is their new release with a hefty chapter titled: Pity the Pear. The authors delve into the indignity of the pear, its lumping into the apple cider category, and their quest to place dignity where it's deserved..." - Food and Beverage Magazine
"Gardening For The Homebrewer is a very accessible and easy-to-read book that can turn any home gardener into a home brewer in no time. There is a great deal of detailed information if that's what you want, even down to the specific varieties of plants to be used, but even a novice should be able to proceed very quickly to experiment with and produce a variety of very interesting libations. Details intermixed with humor? How can you go wrong?" - Toledoboomer
"This introduction to the wide variety of plants that can be used for fermentation or infusions will open up a whole new world for those DIYers that want to try their hand at growing their own." - Detroit News
"Natural gifts for gardeners bring ideas for new growth. This book combines two of my passions: gardening and beer. It describes how to grow and use plants in making not only beer, but also wine (both grape and fruit), ciders, perry (or pear cider) and liqueurs." - Portland Press Herald Maine Gardener