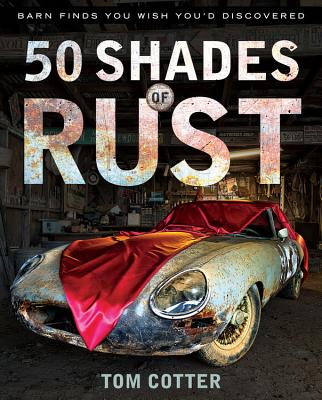 50 Shades of Rust (Hardcover)
Barn Finds You Wish You'd Discovered
Motorbooks, 9780760345757, 192pp.
Publication Date: September 15, 2014
* Individual store prices may vary.
Description
101 barn-find tales sure to entice any car collector. In recent years, the quest to find and restore forgotten automotive gems has generated a cult-like following - a very large cult-like following. So large, in fact, that the subject of automotive archaeology has inspired an entire genre of television programs, including Counting Cars, Desert Car Kings, Chasing Classic Cars, One of a Kind, What's My Car Worth?, and numerous others. Author Tom Cotter is at the forefront of this movement with his In the Barn series, a line of books that inspired many of the above-mentioned television programs. 50 Shades of Rust collects 90-plus of the all-time best barn-find stories. Each story is accompanied by photographs from the scenes of the finds, creating a heavily illustrated book unlike any barn-find book yet published.
About the Author
Tom Cotter had long been involved in nearly every facet of the automotive and racing industries before writing his first book. From mechanic and auto salesman to heading the public relations department at Charlotte Motor Speedway, Cotter formed his own racing and automotive PR and marketing agency, Cotter Group. The agency represented some of the largest clients in NASCAR, IndyCar/CART, drag racing, and road racing. He has written biographies of the legendary Holman-Moody race team, Tommy Ivo and Dean Jeffries, but is best known for his series of barn find books, such as Cobra in the Barn, 50 Shades of Rust and Barn Find Road Trip. Cotter appears in the Barn Find Hunter video series, which is distributed by Hagerty Insurance. He teaches public relations at Belmont Abbey College, sits on the advisory board of McPherson College's Auto Restoration program, and is a member of the Road Racing Driver's Club (RRDC.) He lives in Davidson, North Carolina.
Praise For 50 Shades of Rust: Barn Finds You Wish You'd Discovered…
"Finding a long forgotten car in a barn is a thrill for the finder, whether or not he or she is able to come to terms with the car's owner. But almost as satisfying are the stories and photos of these discoveries. When someone unearths a disappeared car, they are experiencing the thrill of the hunt. Read 'em and weep." - The Shelby American
â??Well illustratedâ?¿ well written and fascinating.â??
â??a great book for bite-size tales of discovery and restorationsâ??