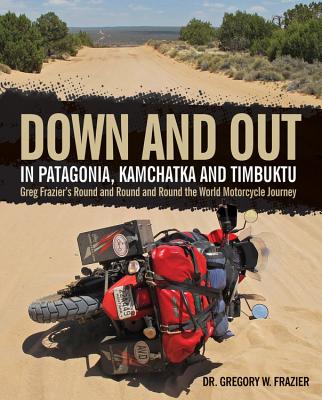 Down and Out in Patagonia, Kamchatka, and Timbuktu (Hardcover)
Greg Frazier's Round and Round and Round the World Motorcycle Journey
Motorbooks, 9780760345832, 224pp.
Publication Date: April 15, 2014
* Individual store prices may vary.
Description
The first-ever, first-hand chronicle of Dr. Gregory W. Frazier's never-ending motorcycle ride. A little over 40 years ago, a man named Gregory W. Frazier got on his motorcycle, went for a ride, and never returned. He's still out there, circumnavigating the globe: exploring the jungles of Asia in the winter, trout fishing in Alaska in the summer, and covering all points in between during the rest of the year. He's been shot at by rebels, jailed by unfriendly authorities, bitten by snakes, run over by Pamplona bulls, and smitten by a product of Adam's rib. He's circled the globe five times and has covered well over one million miles (and counting). During those past four decades, Dr. Frazier has been chronicling and photographing his around-the-world adventures, publishing 13 books on the subject (including one previous title with Motorbooks), the majority of which have been manuals for touring specific locations or general how-to-tour-by-motorcycle books. He has also produced 9 documentary DVDs, but until now, nothing in print has encompassed the entirety of his worldwide motorcycle adventures. Now, for the first time, he has written his on-the-road autobiography that captures the whole of his extraordinary travels in words and images. Down and Out in Patagonia, Kamchatka, and Timbuktu tells the amazing ongoing story of Dr. Frazier, one of the world's single most well-traveled motorcyclists.
About the Author
Professional motorcycle adventurer Dr. Gregory W. Frazier has circumnavigated the glove five times by motorcycle, logging over 1,000,000 miles in the process. He has been described as "America's number-one extreme motorcycle adventurer." No stranger to danger, he's been shot at by rebels, jailed by unfriendly authorities, bitten by snakes, run over by Pamplona bulls, and smitten by the women of the world. From one end of the earth to another, Frazier continues to actively pursue and chronicle his two-wheel adventures and expeditions to the most remote places on the planet.
Frazier is an author, motorcycle journalist/columnist, film producer/consultant, professional photographer, and motorcycle industry promoter. His work appears widely throughout the international motorcycling press.
When not adventuring around the world, Frazier lives quietly in the Big Horn Mountains of Montana.
Praise For Down and Out in Patagonia, Kamchatka, and Timbuktu: Greg Frazier's Round and Round and Round the World Motorcycle Journey…
"Frazier has written something more than a motorcycle travel book. His book reveals as much about him as it does about the long roads he has traveled; maybe even more. The book takes us along on his motorcycle odyssey to the far pavilions; if it can be reached by a motorcycle, he has probably been there, and he may be about the only one who has. Spanning 224 pages, with 300 color and 50 black-and-white images, the book is masterfully edited by Jordan Wiklund and beautifully presented in hard cover." - UltimateMotorcycling.com
"I have to say Gregory has outdone himself this time. Liberally illustrated with great photos from around the world, lots of fascinating people, places and stories in Gregory's typical laid back style. Recommended!" - HorizonsUnlimited.com
"It's a bench racing festival of learning the ins and outs of round the world touring, something Frazier has done probably more than anyone else on the planet. Since you probably won't ride around the world countless times, get it and live vicariuosly." - SoundRider.com
or
Not Currently Available for Direct Purchase