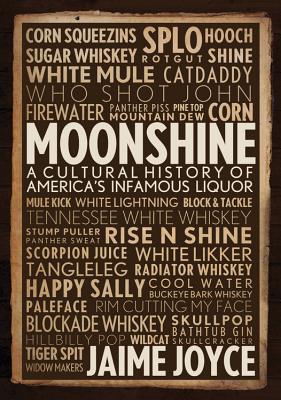 Moonshine
A Cultural History of America's Infamous Liquor
Hardcover

* Individual store prices may vary.
Description
Nothing but clear, 100-proof American history.
Hooch. White lightning. White whiskey. Mountain dew. Moonshine goes by many names. So what is it, really? Technically speaking, "moonshine" refers to untaxed liquor made in an unlicensed still. In the United States, it's typically corn that's used to make the clear, unaged beverage, and it's the mountain people of the American South who are most closely associated with the image of making and selling backwoods booze at night—by the light of the moon—to avoid detection by law enforcement.
In this book, writer Jaime Joyce explores America's centuries-old relationship with moonshine. From the country's early adoption of Scottish and Irish home-distilling techniques and traditions to the Whiskey Rebellion of the late 1700s to a comparison of the moonshine industry pre- and post-Prohibition and a look at modern-day craft distilling, Joyce examines the historical context that gave rise to moonshining in America and explores its continued appeal. Even more fascinating than the popularity of the liquor itself is moonshine's widespread effect on U.S. pop culture: moonshine runners were NASCAR's first marquee drivers; white whiskey was the unspoken star of countless Hollywood film and television productions; and numerous songs inspired by making shine have come from such musicians as Dolly Parton, Steve Earle, Metallica, Ween, and others. While we can't condone making your own illegal liquor, reading Moonshine will give you a new perspective on the profound implications that underground moonshine making has had on life in America.
Praise For Moonshine: A Cultural History of America's Infamous Liquor…
"In an age of craft distilling, moonshine has been reborn as an artisanal spirit. So it is only fitting that white lightning has also gotten as eloquent and learned a chronicler as Jaime Joyce. Her book, so informative and so pleasurable, deserves a toast of its own." - Samuel G. Freedman, journalist and author
—
-
"Joyce's Moonshine is an enlightening look at a truly American creation and its role in our history and culture. As moonshine continues to gain popularity, this book is a must-read for bartenders, mixologists, or cocktail enthusiasts looking for a primer on the subject." - Chris M. Walsh, Zagat
—
-
"The history of stock car racing is intertwined with the history of bootlegging and the men who raced their illegal liquid cargo in souped-up Fords through the back roads of Appalachia. A new book about the distinctly American spirit, Moonshine: A Cultural History of America's Infamous Liquor by Jaime Joyce, celebrates all things 'shine and includes an examination of its role in the rise of racing. Some greats left a legacy on the track as well as on the open road. Drink it in." - Alexandra Fenwick, Sports Illustrated
—
-
"... a compulsively readable account of America's most infamous likker." - Biographile.com
—
-
"Call it unaged corn whiskey, white lightning, or just likker, home-brew moonshine has been a part of American cultural consciousness since colonial times. In her debut book, Joyce provides a highly readable survey of the economic, legal, and culinary aspects of the drink from pre-Revolutionary days through Prohibition and on to the current craft brewing renaissance. The pacing is lively, and numerous illustrations, bits of trivia, and the occasional drink recipe will keep audiences engaged through to the end. The choice to use unmarked endnotes is a wise one for a nonacademic work of this size, keeping the text uncluttered while allowing interested readers to explore Joyce's sources in greater depth.Verdict A shot of pop history that goes down easy and packs a punch. Recommended for home-brewing fans and cultural history buffs looking for a broad overview of the topic." â?? Library Journal
—
-
"In this, her first book, journalist Jaime Joyce writes with a fizzy vigor, clearly savoring the stories of old-time moonshiners and their world." - The Boston Globe
—
-
"The history of moonshine is a tumultuous one, and it's too often a misunderstood and underappreciated story. In Jaime Joyce's Moonshine, the liquor finally receives its due as one of the country's namesake spirits. Never before have the culture, production, and mystery of moonshine been so illustriously recounted. Joyce's in-depth view of the story creates an engaging invitation for the eager spirit enthusiast." - Dan Amatuzzi, author of A First Course in Wine and Eataly wine director
—
-
Zenith Press, 9780760345849, 208pp.
Publication Date: June 10, 2014
About the Author
Jaime Joyce's work has appeared in Saveur, Edible Manhattan, Edible Brooklyn, and the online edition of The Atlantic as well as on the Big Roundtable, a website for long-form narrative nonfiction. She earned master's degrees at Bank Street College of Education and Columbia University's Graduate School of Journalism, where she was awarded the Lynton Book Writing Fellowship. She is an editor at Time Inc.Website: http://jaimejoyce.comTwitter: @jaime_joyce