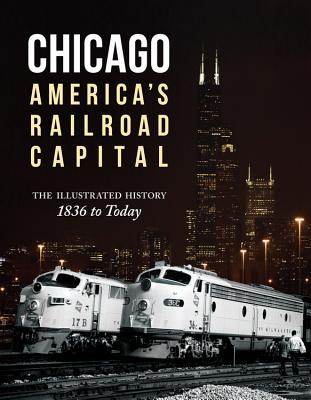 Chicago (Hardcover)
America's Railroad Capital: The Illustrated History, 1836 to Today
Voyageur Press, 9780760346037, 192pp.
Publication Date: October 14, 2014
* Individual store prices may vary.
Description
The first illustrated history of the people, machines, facilities, and operations that made Chicago the hub around which an entire continent's rail industry still revolves. In the mid-nineteenth century, Chicago's central location in the expanding nation helped establish it as the capital of the still-new North American railroad industry. As the United States expanded westward, new railroads and rail-related companies like Pullman established their headquarters in the Windy City, while eastern railroads found their natural western terminals there. Historically, railroads that tried to avoid Chicago failed. While the railroad industry has undergone dramatic changes over the course of its existence, little has changed regarding Chicago's status as the nation's railroad hub. In Chicago: America's Railroad Capital, longtime, prolific railroading author and photographer Brian Solomon - joined by a cast of respected rail journalists - examines this sprawling legacy of nearly 180 years, not only showing how the railroad has spurred the city's growth, but also highlighting the city's railroad workers throughout history, key players in the city and the industry, and Chicago's great interurban lines, fabulous passenger terminals, vast freight-processing facilities, and complex modern operations. Illustrated with historical and modern photography and specially commissioned maps, Chicago: America's Railroad Capital also helps readers understand how Chicago has operated - and continues to operate - as the center of a nationwide industry that is an essential cog in the country's commerce.
About the Author
Brian Solomon is one of today's most accomplished railway historians. He has authored more than thirty books about railroads and locomotive power, and his writing and photography have been featured in the world's top rail publications, including Trains, Railway Age, Passenger Train Journal, and RailNews. He divides his time between Massachusetts and Ireland.
Brian Solomon is the author of more than 40 books on locomotives and railroading. He splits his time between Monson, Massachusetts, and Dublin, Ireland.
Michael W. Blaszak was born into a Pennsylvania Railroad family in Chicago, his grandmother having gone to work in the 12th Street Coach Yard during the Depression. After graduating from law school, he joined the Santa Fe Railway. Throughout his legal career, he has represented many Class 1, short-line, and passenger railroads, as well as writing numerous articles about the railroad industry and taking railroad photographs for nearly 50 years.
Chris Guss has been writing about rail-related topics for over 20 years and photographing trains for almost 30 years. After graduating college, he worked in various operations and management positions for several railroads before becoming a freelance writer and photographer. Born in St. Louis, he has called Chicago home since 2000.