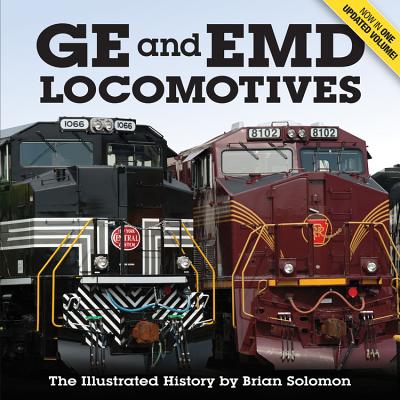 GE and EMD Locomotives (Paperback)
The Illustrated History
Voyageur Press, 9780760346129, 352pp.
Publication Date: August 1, 2014
* Individual store prices may vary.
Description
The complete history of the world's foremost locomotive builders. With roots stretching back to the turn of the twentieth century, General Electric and Electro-Motive have designed some of the most iconic locomotives in the history of North American railroading. Now, for the first time, acclaimed rail author Brian Solomon's landmark historical accounts of these manufacturers' North American machines (GE Locomotives, 2003, and EMD Locomotives, 2006) are available in a single photo-packed volume. In GE and EMD Locomotives: The Illustrated History, nearly 400 rare photographs (more than 300 of them in color) are accompanied by thorough histories of the two manufacturers, beginning with their earliest efforts in the 1890s and 1930s, respectively. Solomon brings the story up to date with afterwords detailing such recent developments as GE's revolutionary Evolution locomotives and EMD's SD70ACe and SD70M-2. From General Electric's electrical legends - the Pennsylvania Railroad's E44s, Amtrak's E60s, and Milwaukee Road's "Little Joes" - to EMD's mid-century F units, workhorse GP and SD locomotives, and Dash series, all the way through to the rivals' most cutting-edge modern "green" designs, GE and EMD Locomotives: The Illustrated History leaves nothing unexamined in the important histories of these industrial giants and the competition that continues to drive them forward.
About the Author
Brian Solomon is one of today's most accomplished railway historians. He has authored more than thirty books about railroads and locomotive power, and his writing and photography have been featured in the world's top rail publications, including Trains, Railway Age, Passenger Train Journal, and RailNews. He divides his time between Massachusetts and Ireland.