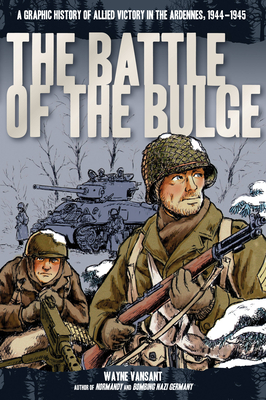 The Battle of the Bulge (Paperback)
A Graphic History of Allied Victory in the Ardennes, 1944-1945 (Zenith Graphic Histories)
Zenith Press, 9780760346228, 104pp.
Publication Date: October 1, 2014
Other Editions of This Title:
Library Binding (8/1/2015)
* Individual store prices may vary.
Description
Fought in the winter of 1944-1945, the coldest season in over 100 years, the Battle of the Bulge still ranks as the single largest battle ever fought by the United States Army. Thirty-one American divisions - fully one-third of the U.S. Army raised during World War II - saw action in this battle. This battle was truly a test: could this conscript army from a pacifistic democracy defeat the best remaining men and machines that Germany's totalitarian government could produce? In Battle of the Bulge, author and artist Wayne Vansant brings readers into the frozen foxholes, haunting forests, and devastated villages of the Ardennes during that freezing cold winter. With meticulous historical accuracy and hand-drawn visuals that can tell a story in ways words alone cannot, Vansant recounts the Bulge with insightful detail, replaying the thrusts and volleys of both the combined Allied and German forces during the tumultuous battle. This is a story of panic, fear, and physical misery; a story of how a generation of draftees, National Guardsmen, and a small core of regular officers and NCOs faced those three elements as snow piled around their foxholes and the incessant drumming of artillery splintered the woods that gave them shelter. It is the story of men, frozen and hurting, far from home and holding little hope of seeing it again until the killing finally ended. Above all, TheBattle of the Bulge is a story of incredible triumph, now beautifully illustrated in graphic novel format for the first time.
About the Author
Writer and artist Wayne Vansant was the primary artist for Marvel's The 'Nam for more than five years. Since then, he has written and illustrated many historically accurate graphic histories, such as The Hammer and the Anvil; The Vietnam War: A Graphic History; Normandy: A Graphic History of D-Day, The Allied Invasion of Hitler's Fortress Europe (Zenith Press, 2012); Gettysburg: The Graphic History of America's Most Famous Battle and the Turning Point of the Civil War (Zenith Press, 2013); Grant vs. Lee: The Graphic History of the Civil War's Greatest Rivals During the Last Year of the War (Zenith Press, 2013); Bombing Nazi Germany: The Graphic History of the Allied Air Campaign That Defeated Hitler in World War II (Zenith Press, 2013); and The Red Baron: The Graphic History of Richthofen's Flying Circus and the Air War in WWI (Zenith Press, 2014). He is currently working on The Battle of the Bulge: A Graphic History of Allied Victory in the Ardennes, 1944-1945 (Zenith Press, 2014) for the 70th anniversary of the battle in December 2014.
Praise For The Battle of the Bulge: A Graphic History of Allied Victory in the Ardennes, 1944-1945 (Zenith Graphic Histories)…
"Bombing Nazi Germany (2013), and The Red Baron (2014, all Zenith) graphic novels, now addresses the major battle that led to Germany's surrender. The photo-realistic and full-color illustrations--Dwight D. Eisenhower, Adolf Hitler, and other major players are authentically captured--add gravity. This work is factual and mostly neutral, not going into the reasons behind the war, only the military strategies employed by each side. Though the book lacks a time line, the maps and detailed descriptions of the tanks used are a nice feature. A useful resource in exploring this historic battle and a fine edition to classrooms as well as libraries. Purchase of the previous titles is recommended for a complete look at the war." - School Library Journal
"In this sixth military-themed graphic novel for Zenith, Vansant (The Red Baron) literally sketches out an introductory work on one of the most important battles of World War II. He proceeds in a mostly chronological manner, beginning with Hitler's concept for the offensive named "Watch on the Rhine" in September 1944 through the official end of the fight on January 16, 1945. His narrative is broad, ranging from policy decisions at the strategic level and movements of particular units down to actions of small groups or individuals. He mentions atrocities on both sides. The book provides a series of maps that help give a sense of where distinct actions occurred in relation to one another. Verdict This book could serve as a useful introduction to the battle for adult or teen readers." - Library Journal
"The Battle of the Bulge may be his best yet. He ramps up the tension found in his previous books another notch or two in this one, and I found myself turning pages even when my eyes were saying, "Turn off that lamp and go to sleep."... a well-researched narrative that is extremely engaging while still communicating the horrors and the sacrifices that were the Battle of the Bulge. Highly recommended." - Armchair General