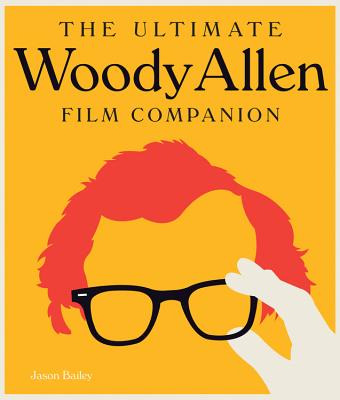 The Ultimate Woody Allen Film Companion
Hardcover

* Individual store prices may vary.
Description
A complete look at the extensive, ageless, unparalleled filmography of Woody Allen. Writer, actor, director, comedian, author, and musician, Woody Allen is one of the most culturally and cinematically influential filmmakers of all time. His films - he has over 45 writing and directing credits to his name - range from slapstick to tragedy, farce to fantasy. As one of history's most prolific moviemakers, his style and comic sensibility have been imitated, but never replicated, by countless other filmmakers over the years. In The Ultimate Woody Allen Film Companion, film writer Jason Bailey profiles every one of Allen's films: from his debut feature, What's Up, Tiger Lily, through slapstick classics such as Take the Money and Run and Sleeper; Academy Award-winning films such as Annie Hall and Hannah and Her Sisters; and recent gems such as Midnight in Paris and Blue Jasmine. Bailey also includes essays on the fascinating themes that color Allen's works, from death and Freud to music and New York City. Getting up close and personal with the actors and actresses that have brought the iconic films to life, this book's behind-the-scenes stories span the entire career of a man whose catalog has grown into a timeless cornerstone of American pop culture. Complete with full cast lists, production details, and full-color images and artwork, The Ultimate Woody Allen Film Companion is the ultimate, indispensable reference to one of cinema's most beloved and important figures.
Praise For The Ultimate Woody Allen Film Companion…
"Flavorwire film editor Bailey (Pulp Fiction: The Complete Story of Quentin ­Tarantino's Masterpiece) has crafted a well-designed look at celebrated filmmaker Woody ­Allen, devoting brief chapters to each of the director's films. Bailey begins with a concise examination of Allen's early years as a comedy writer and his stand-up work; however, he makes it clear that his emphasis is on Allen's cinematic output, not his life or the scandals (those looking for biographical information would do well to consult John Baxter's Woody Allen: A Biography, Eric Lax's Woody Allen: A Biography, or films Woody Allen: A Documentary and Wild Man Blues). Though brief, the analyses are on point, and color photographs, graphics, pull-out quotes, and informational boxes give the book the feel of a highbrow movie magazine. Interspersed throughout are short essays that add nuance and texture, considering, for instance, ­Allen's obsession with death and his decisions to shoot some films in black and white. While little of the material here will be new or surprising to most film fans, it's artfully packaged and charmingly presented, making the volume an attractive option for hard-core fans and casual readers alike. VERDICT A delightful, though less than scholarly, addition to film collections." - Library Journal
Voyageur Press, 9780760346235, 194pp.
Publication Date: October 15, 2014
About the Author
Jason Bailey is the film editor for Flavorwire, and his writing has appeared in The Atlantic, Slate, Salon, and the Village Voice. He is the author of Voyageur Press' Pulp Fiction: The Complete Story of Quentin Tarantino's Masterpiece (2013) and The Complete Woody Allen: Everything You Always Wanted to Know About Woody Allen Movies * But Were Afraid to Ask (2014). Bailey has also done stints in TV news and video stores in addition to writing and directing eleven feature films in his hometown of Wichita, Kansas. He now lives in New York with his Rebekah, where he sees too many movies and tweets too much (@jasondashbailey).http://twitter.com/jasondashbailey
or
Not Currently Available for Direct Purchase