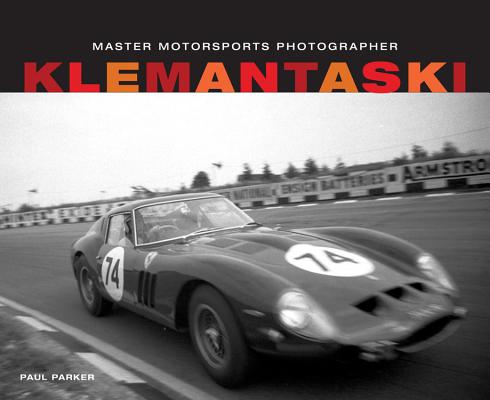 Klemantaski (Hardcover)
Master Motorsports Photographer
Motorbooks, 9780760346440, 272pp.
Publication Date: January 6, 2015
* Individual store prices may vary.
Description
See the golden age of racing through hundreds of famed motorsports photographer Louis Klemantaski's greatest images, including many that have never been previously published.
The next best thing to attending a race in person is the opportunity to relive it through high-quality photography. Most images merely document the event--rare are those photographs that capture the event. These are the photos that fans turn to again and again. Louis Klemantaski inserted himself into the action - whether that meant standing just off-course in a corner, roaming the paddock and infield, or riding shotgun in a Mille Miglia race car. In the process, he captured some of the most iconic images in motorsports, preserving these exciting events for all time.
Louis Klemantaski is one of history's greatest motorsports photographers. The immediacy and excitement his images evoke are unsurpassed. He worked during what is often considered racing's golden era, that period immediately just prior to WWII through the early 1970s when the sport was still the province of passion and daring, before huge budgets and massive sponsorship forever changed its tenor. Klemantaski's subjects spanned road racing, Grand Prix, and F1 competition.
Klemantaski: Master Motorsports Photographer is the only book in print devoted to the photographer's full body of work. Hundreds of the best Klemantaski images have been collected to provide the only opportunity to own and enjoy his key work in a single volume. No racing or photography fan will want to miss this book!
About the Author
Paul Parker is a UK-based author specializing in historic motor racing and motorsport photography. He has published books with Haynes, Karl Ludvigsen, and Palawan Press. Paul also works regularly with top UK magazines including Octane, Classic and Sports Car, Autosport, and Motorsport.
The Klemantaski Collection consists of over 500,000 motor racing and related automotive photographs and is one of the largest and most varied libraries of its kind anywhere in the world. It includes all of the racing images taken by famed motorsports photographer Louis Klemantaski during his long and active career from 1936-1974. There are some 60,000 Klemantaski images in the Collection. More information about the collection is available at http://www.klemcoll.com/.
Praise For Klemantaski: Master Motorsports Photographer…
"Klemantaski: Master Motorsports Photographer is a real masterpiece, capturing the essence of magnificent, if long lost, venues, the range of fascinating drivers from around the world that made motorsport history, and the evolution of intriguing race cars."
- Prancing Horse, Ferrari Club of North America
"Posted next to Klemantaski's outstanding and unforgettable images, Parker's informative and well researched text and captions propels this book into (as Klemantaski himself might have said), "another class entirely". If I had but one book to explain to a neophyte what racing was all about in the Twentieth Century, there could be few better choices than Master Motorsports Photographer Klemantaski."
- VeloceToday.com
"This will become one of the most important motorsports history volumes released this year, guaranteed. There's not a single dud in the collection. It's priceless."
- Hemmings Motor News
"This book is going to be read, reread, savored, and returned to again and again."
- Victory Lane
"There were very few (photograhers) who stood out because they had what no drugstore photographer could buy Ã?¢ââ??‰â?¬Å? an eye. And one who had it along with technical knowledge of film, shutter speeds and f-stops was Louis Klemantaski. This is the only book in print devoted to the Klemantaski's full body of work and many of his best images are included, beautifully printed in landscape format."
- Vintage Motorsport
"Through the 272-pages, it is evident that Klemantaski did more than simply spectate he was a fixture. At Grand Prix events, Le Mans and the Mille Miglia, amongst others, from the mid 1930s onward till his retirement, his eye never left him. Klemantaski captured all the moments in racing - the seemingly ordinary moments, through the ones that are truly visceral during the era of racing giants. No racing or photography fan will want to miss this book."
- Petrolicious.com
"...a handsome volume of 272 pages and 350 stunning photographs." - Examiner.com
"...the most important aspect of this book is that it shows scenes and settings that thee and me will never see for real. The Mille Migliapictures alone are worth the $75.00 for this large, 272-page hardback."
- Racer.com / Sports Car Club of America
"Klemantaski: Master Motorsports Photographer by Paul Parker has got to be one of the most gorgeous books I have seen in a long time. This book is great for racing fans- especially historic racing fans as well as photographers."
- BadGroove.com
"Klemantaski Master Motorsports Photographer, like a genuine archive, is filled with documentation of a man's life's work and is aimed squarely at those who appreciate it. And unquestionably, that's where it delivers."
- TheNewsWheel.com
"For more than 20 years, Louis Klemantaski photographed some of the most famous of European racers competing at the highest levels of motorsports and as a result of his work came to know the race teams, their families, and others associated with European motorsport intimately. Paul Parker's recently released book, Klemantaski: Master Motorsports Photographer, presents a fair amount of those decades' worth of racing photos, but it also shows the humor and conviction and tragedy behind the sport, all thanks to Klemantaski's deep passion and involvement in it."
- Hemmings Motor News Blog
"...a handsome volume of 272 pages and 350 stunning photographs."
- Examiner.com
â??marvellous... a delight for motor racing fansâ??
'Few people have taken more or better motor racing photos than Louis Klemantaski... Superb'
'if you want to study some of the most evocative images from what many consider to be the golden age of motorsport, you need look no further than this book.'
"Klemantaski: Master Motorsports Photographer by Paul Parker has got to be one of the most gorgeous books I have seen in a long time. This book is great for racing fans- especially historic racing fans as well as photographers." - BadGroove.com
"For more than 20 years, Louis Klemantaski photographed some of the most famous of European racers competing at the highest levels of motorsports and as a result of his work came to know the race teams, their families, and others associated with European motorsport intimately. Paul Parker's recently released book, Klemantaski: Master Motorsports Photographer, presents a fair amount of those decades' worth of racing photos, but it also shows the humor and conviction and tragedy behind the sport, all thanks to Klemantaski's deep passion and involvement in it." - Hemmings Motor News Blog
or
Not Currently Available for Direct Purchase