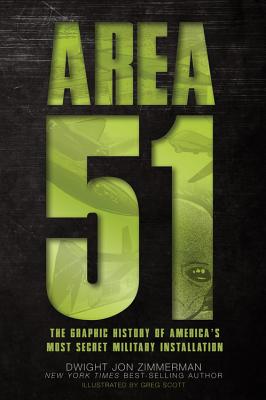 Area 51
The Graphic History of America's Most Secret Military Installation
Paperback

* Individual store prices may vary.
Praise For Area 51: The Graphic History of America's Most Secret Military Installation…
"In the pop culture consciousness, Area 51 is a secret government base in the deserts of Nevada, housing everything from crashed UFOs to live extraterrestrial beings to ancient magical artifacts. With this book, Zimmerman (Uncommon Valor; The Vietnam War: A Graphic History) pulls back the curtain to reveal the true story of this cutting-edge aerospace research and testing complex. Spy planes flying on the edge of outer space, radar-defeating stealth technology, and even today's deadly strike drones can all trace their origins to Area 51 and the teams of designers, engineers, and pilots who served there through decades of total secrecy. Apart from a few brief asides, little mention is made of the facility's role as the Shangri-la of UFOlogists, and the well-known conspiracy theories regarding the facility are ignored, much less refuted. Scott's illustrations do a fine job of conveying the seriousness and tension that permeated every aspect of the base's many projects, but confusing page layouts disrupt the flow of the narrative in a few places.Verdict The history-heavy, conspiracy-light treatment may disappoint some readers initially, yet those who stick with it should enjoy the fascinating true-life tales of espionage, diplomacy, and high-tech aerospace innovation. Recommended for Cold War history buffs and aviation aficionados." - Library Journal
"This is NOT just a book for young people--this is a serious, information-packed illustrated book. Amazing and entertaining; it debunks lots of rumors and misinformation about Area 51. I am impressed with all that it delivers. Not "just a comic book," it resonates with adults as much as it should with younger readers. A great read!" - W. H. McDonald Jr. Founder of The American Author Association & The Military Writers Society of America Author and documentary film consultant
"Zimmerman packs a ton of information into a book that helps explain and understand one of America's worst kept secrets about one of it most vital technological national assets. Area 51, while "Black" for years, has been the focus of crazy legends and conspiracies and Zimmerman helps demystify the legends and put things in perspective in a unique, highly readable format. A "must read" for those interested in Cold War history and future aerospace technology development." - Richard L. Weaver, Colonel, USAF, (ret) Special Agent, Air Force Office of Special Investigations (Retired) Former Director of Security and Special Program Oversight, USAF and Author, The Roswell Report: Fact Versus Fiction in the New Mexico Desert
Zenith Press, 9780760346648, 96pp.
Publication Date: November 3, 2014
About the Author
Dwight Jon Zimmerman is a best-selling and award-winning author, radio show host, and producer and the president of the Military Writers Society of America. Zimmerman has authored the text for several graphic novels, including the acclaimed The Hammer and the Anvil, a dual biography of abolitionist Frederick Douglass and President Abraham Lincoln. His other titles include The Vietnam War: A Graphic History and Uncommon Valor: The Medal of Honor and the Six Warriors Who Earned It in Afghanistan and Iraq. He is also the co-author, with Bill O'Reilly, of the New York Times number-one bestseller Lincoln's Last Days.
Greg Scott is a comic-book artist who has done stints at both Marvel and DC Comics, working on such series as Gotham Central and Case Files: Sam and Twitch. He's also a film fanatic and he typically watches two movies a day. The aesthetic of film informs his work, more so than traditional drawing. Get sneak peeks at his blog: gregscottart.blogspot.com.